10 Best Ways To Update Your Kitchen On A Budget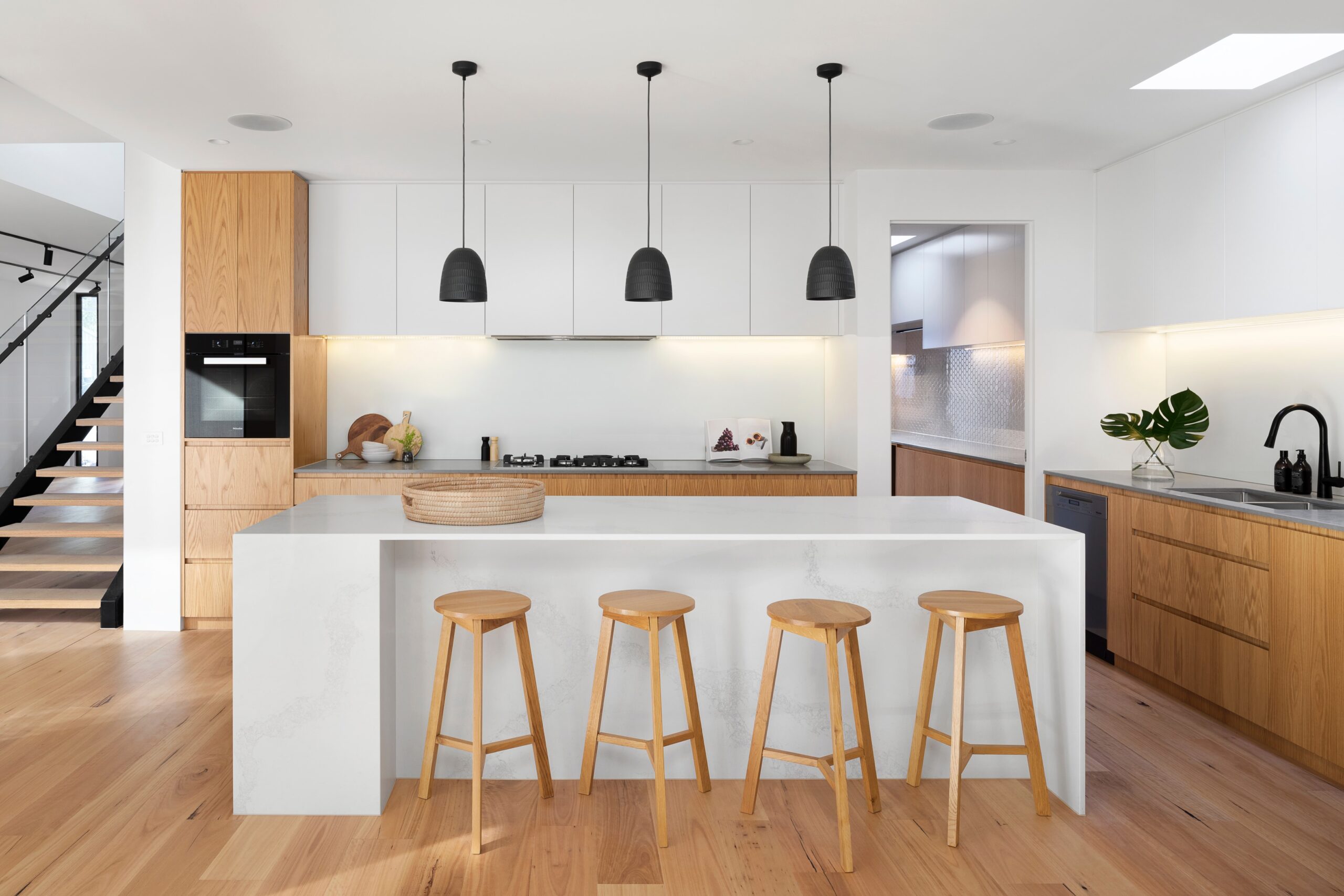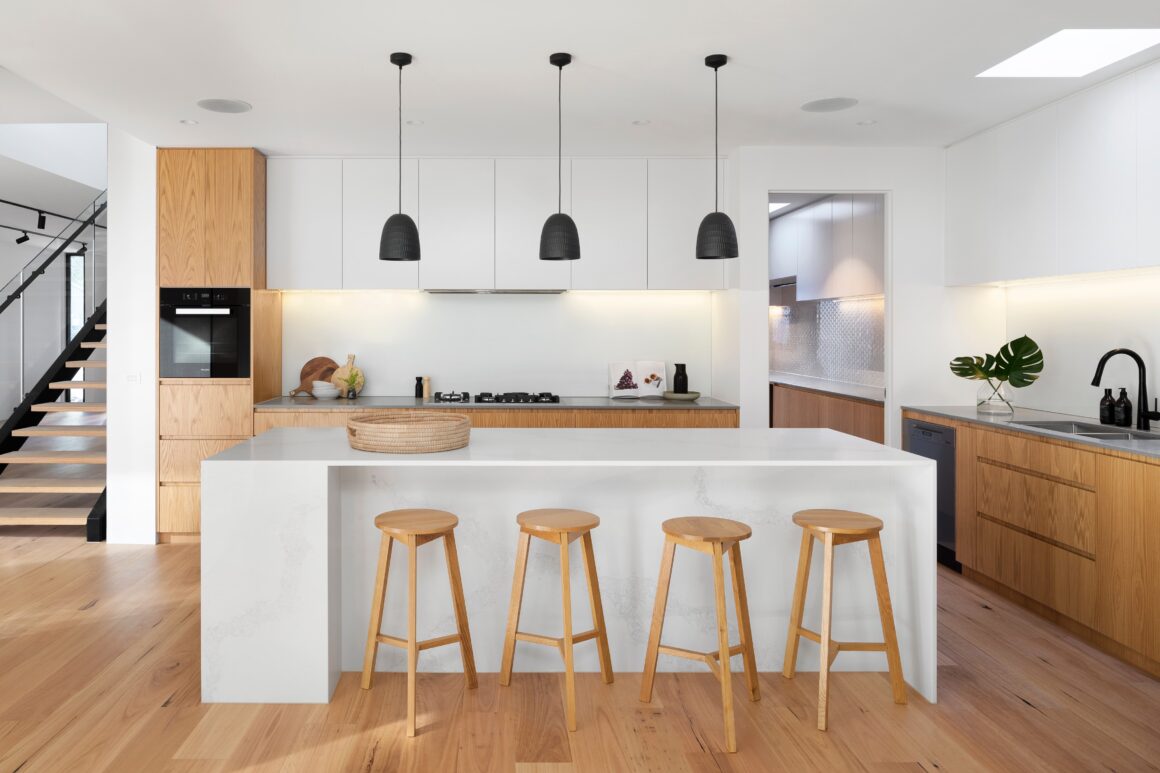 How To Update Your Kitchen On A Budget
Are you ready to update your kitchen on a budget you can afford?
Total costs for a kitchen renovation can sometimes be extremely expensive. You know how those HGTV "kitchen" reveals are…
However, you can make a few affordable changes that will drastically update your kitchen's appearance and functionality that won't break the bank. 
In this article, I'm going to show some little-known yet simple tips to significantly enhance your kitchen, and the best places to go to buy materials. 
This post contains affiliate links, which means I may receive a small commission at no cost to you if you make a purchase through a link. 
How To Stay On Budget While Updating your Kitchen
When you're trying to figure out how to update your kitchen on a budget, make sure you're using these 3 rules to help you save money.
1. Shop with your cashback credit card to get money back on the items you purchase for your kitchen update
2. Track EVERYTHING! I use this Annual Budget Tracker
3. Use Rakuten if you purchase items online. You'll get $30 if you spend $30! Click here to sign up
Here's how you can do kitchen updates on a budget.
9 Ideas For Quick and Inexpensive Kitchen Updates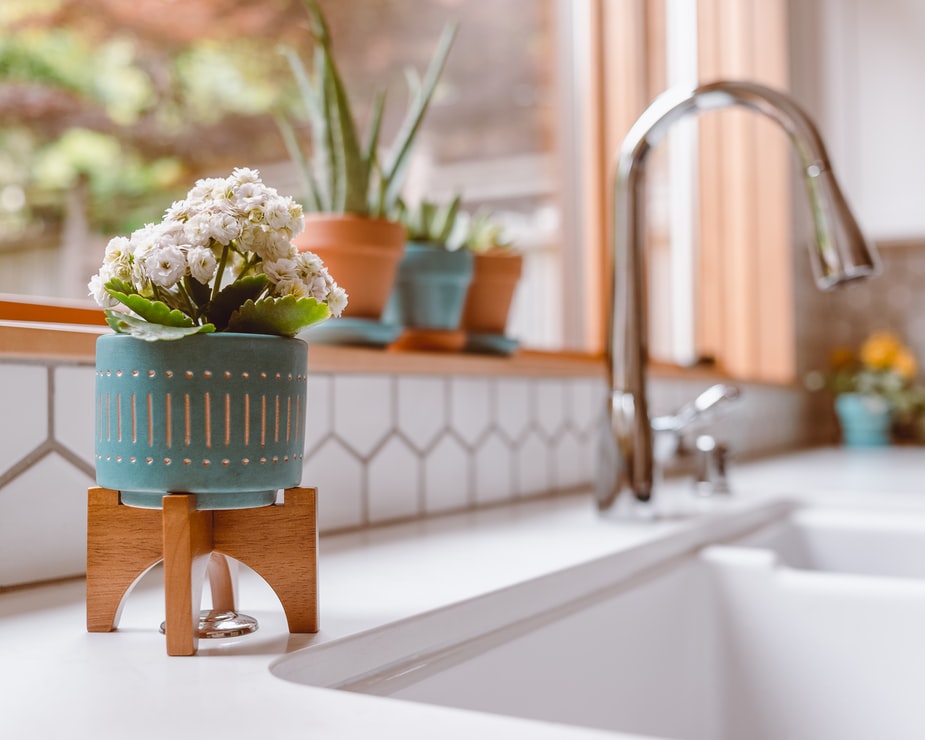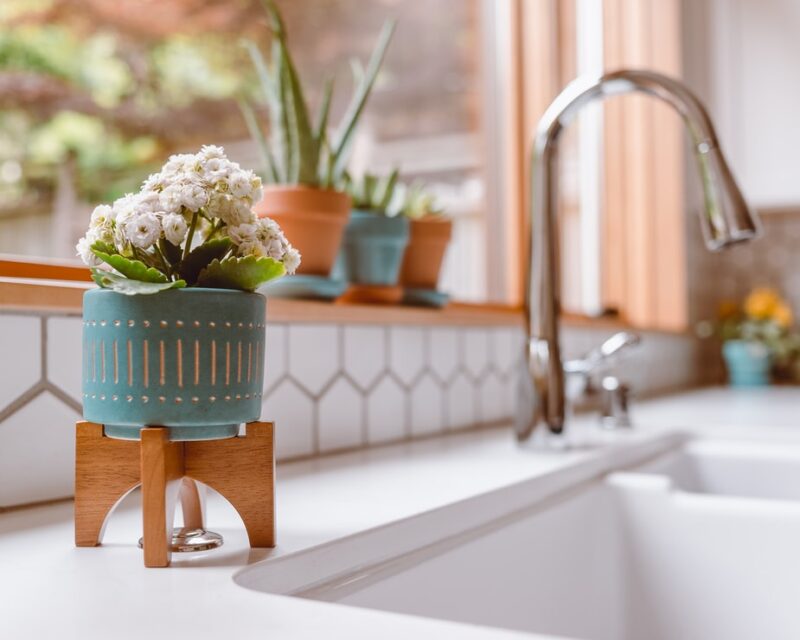 1. Update Your Hardware
It's interesting how something so small can make such a big impact. Updating your kitchen hardware can make a ginormous impact with very little time, effort, or money. 
Depending on your design aesthetic, you could "youngify" your kitchen by going with modern hardware colors like black, stainless steel, or copper.
(Click photos for sources)
This is the most cost-effective update you can do to a kitchen.
2. Paint The Cabinets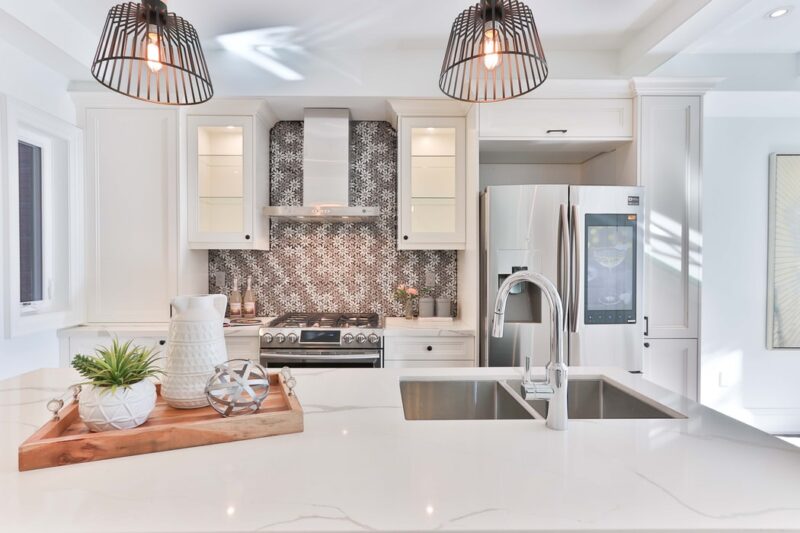 One of the most transformative updates you can do in a kitchen is to update the cabinets with a fresh coat of paint.
Updating kitchen cabinets on a budget is doable! Try to avoid getting brand new kitchen cabinets because they are really expensive!
If your cabinets are in decent shape, do what you can to salvage them, and just paint! 
You can save a few hundred dollars by painting the cabinets yourself vs. hiring a contractor, make sure to check out this video to make sure you're doing it right- How to Prep and Paint Kitchen Cabinets.
Check out this amazing kitchen cabinet paint job! And it only cost $325.
View this post on Instagram
Depending on how many cabinets you have will determine how much paint you'll need and final costs.
This is one of the best ways on how to update your kitchen cabinets on a budget!
3. Update Lighting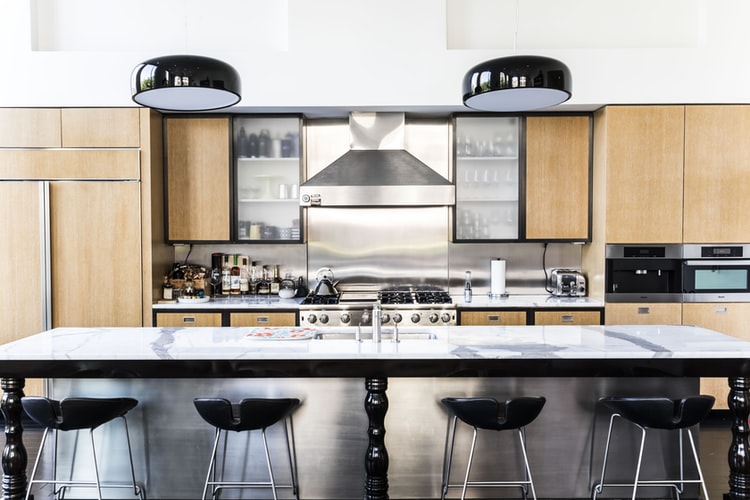 Shopping for lighting that matches the aesthetic of your kitchen can sometimes be difficult. I highly recommend checking out your local Menards, Home Depot, or Lowe's in that order.
Lighting can cost anywhere from $50 – $700 depending on the types of lights you'd like. There's a variety to choose from like adding canned lighting, standard light fixtures, or if you're adding decorative pendant lights.
If you don't already have canned lighting or recessed lighting in your kitchen, it can be a key element to function and style in any space. It can increase the amount of light in a room, highlight artwork, or special features, and open up spaces so they look and feel different. If you want to add recessed lights, check out this step-by-step tutorial.
Pendant lights are also a nice touch if you need lighting over your peninsula or island. 
Don't forget to add under cabinet lighting for an added modern touch.
Below are a few inspiration photos to check out from Pinterest.
4. Update The Back of Your Island Or Peninsula
Just refreshing the back of your island or peninsula with wallpaper or wood planks with a shiplap texture can add so much life to your kitchen. 
Updating the back of your island is a DIY project and should cost you less than a $200.00 for the project (depending on materials). You can get materials from home improvement stores like Home Depot or Lowe's.
Check out the Remodelholic for the step-by-step tutorial.
Below are some examples of what I mean by updating the back of your island or peninsula. 
5. Update Window Treatments
If you're not sure what types of window treatments are out there, check out these 43 window treatments that will make your view even better.
I decided on plantation-style blinds that were cut to size from Lowe's. That cost us around $45 and it looks amazing.
The lighter and brighter your kitchen is, it brings people into the space with the desire to want to be and stay there.
6. Update Your Sink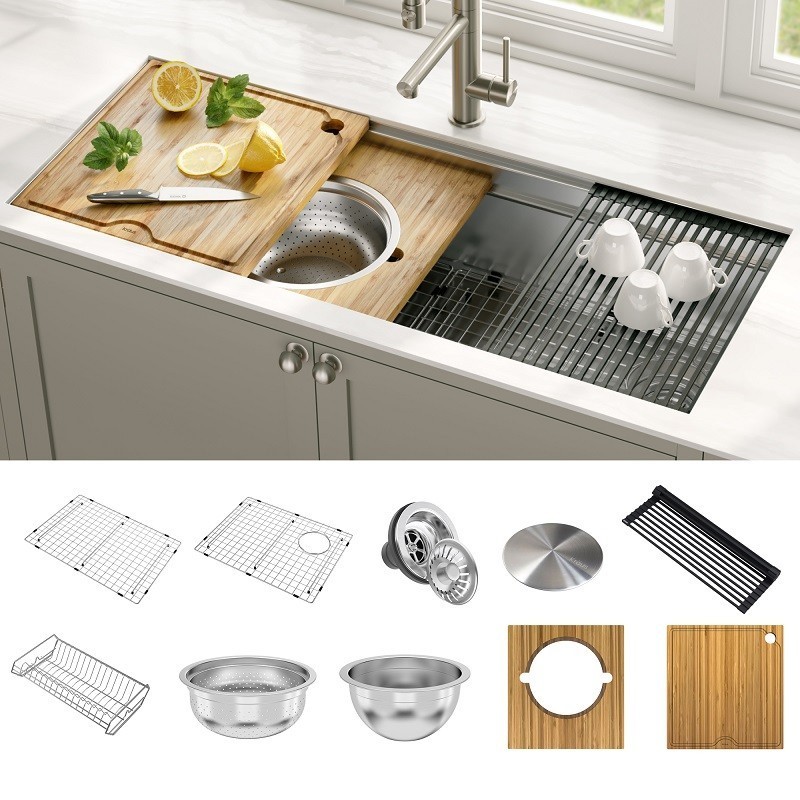 If you're doing an update on your kitchen, it probably is a bit dated.
Updating your sink is one of the best and most noticeable ways to modernize your kitchen and improve its functionality. 
Kitchen sinks usually range from $200 – $400, just like the one below.
7. Update Your Backsplash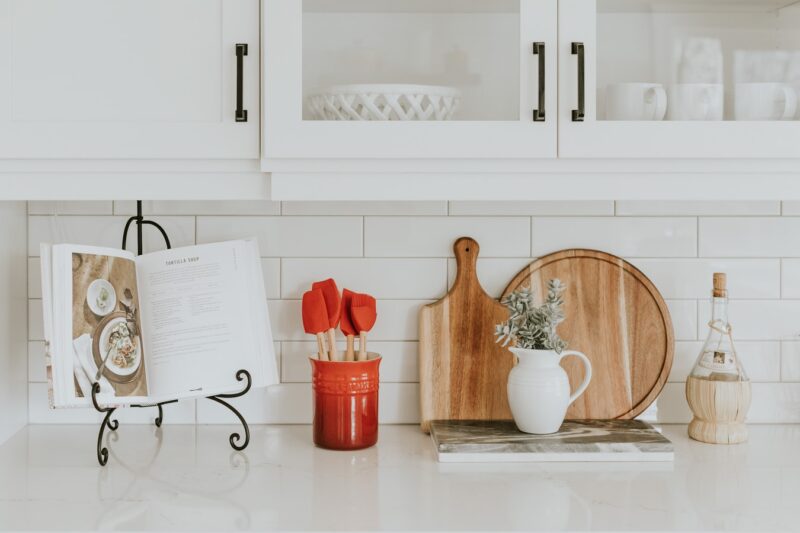 Updating the backsplash in your kitchen adds personality to your kitchen.
Even if this isn't your forever home, I'd recommend going with a classic subway tile, either standard layout or herringbone pattern. These styles typically do well when selling the home and can appeal to mostly any buyer.
Depending on how large your kitchen is, or the space you'll need to cover (square feet), it could cost around  $300 – $700 for a small 70 square feet kitchen.
Want a more affordable "backsplash" option?
If you really want to stay under budget, consider getting Peel and Stick Subway Tile from Amazon.
The reviews speak for themselves!
8. Add a Rug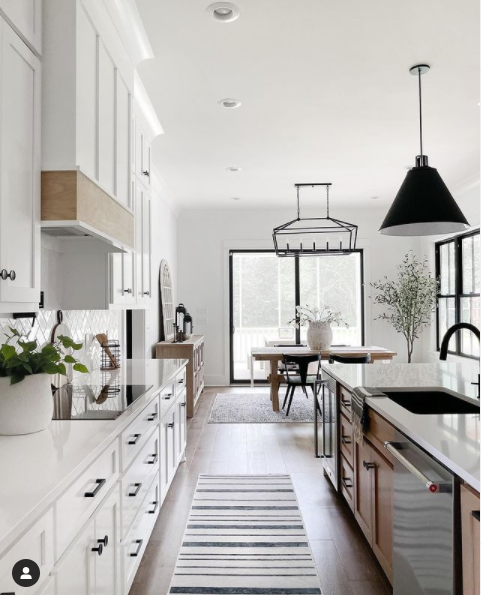 Don't underestimate the power of a rug.
Ruggable, Amazon, and Target! Don't forget about Target! Target has some great rug options no matter what your style is.
One of my favorite things about shopping for rugs at Target is that they have more of a variety online so you aren't just limited to what they have in-store.
I'm super picky and can't seem to ever be able to visualize the rug in my space unless the rug is physically in MY space.
Rugs can run you anywhere from $50 – $600. 
Depending on your budget and how much you're planning to update in your kitchen will determine your overall budget.
9. Paint Your Kitchen
Sometimes updated paint is all you need to recreate and modernize a space.
The most noticeable way to update your kitchen is with paint.
If you're struggling with paint colors for your kitchen, check out the best paint colors for the kitchen.
Pro-Tip: You can't go wrong with a shade of white. 
10. Update Countertops
If you're wondering how to update your kitchen countertops on a budget, you have to check out the stock at Menards, Home Depot, and Lowe's, in that order for price and quality.
But, I'd also recommend Ikea countertops. They have a variety of materials from laminate to metal and thick veneer.
You can also schedule a virtual appointment with an Ikea Design Specialist that will spend 1 – 2 hours with you to walk you through different designs and layouts you could do with your kitchen. FYI – this meeting is just for ideas, you aren't committing!
In my opinion, there are 3 budget-friendly tiers when it comes to countertops.
Tier 1: Less than $100
The most budget-friendly way to go updating your countertops is getting Paper Countertops. Which is essentially wallpaper for your countertops.
If you go with this option, make sure to get the Smoothing Tool Kit for the best application.
Tier 2: Less than $500
You can step up the aesthetic with Butcher Block countertops, Laminate, or Solid Surface that will likely run you around $100 – $300.
Whichever option you choose, it's sure to be a focal point of the kitchen!
Tier 3: $500+
Quartz and Marble are the top two materials in price for countertops. And they are beautiful but make sure to consider your budget if you decide to go this route. Check here to see if you have a dealer near you. 
More Ways On How To Update Your Kitchen On A Budget
Here are a few extra quick tips to help update your kitchen on a budget:
Save Counter Space and consider moving the microwave over the stove (if it isn't already). Should be less than $350.

Add plants or potted plants to your space.

If you have some open walls, add open shelving.
Here are Some Little Known Ways To Increase Your is a List of Different Ways To Make Money To Increase Your Kitchen Budget
If you want to keep updating your home but are limited to a budget, pick up a side hustle and earn more money to have the ability to spend more. Below is a shortlist of the different ways I make extra money. 
Let me know if you use any of these tips to update your kitchen on a budget. I'd love to see pictures! Which tips did you like best?
If you liked this article, let me know in the comment section below!
I'm working on more affordable ways to update your home on a budget and to stay in the know you'll have to join my mailing list. Click here to subscribe.
Love it? Pin it!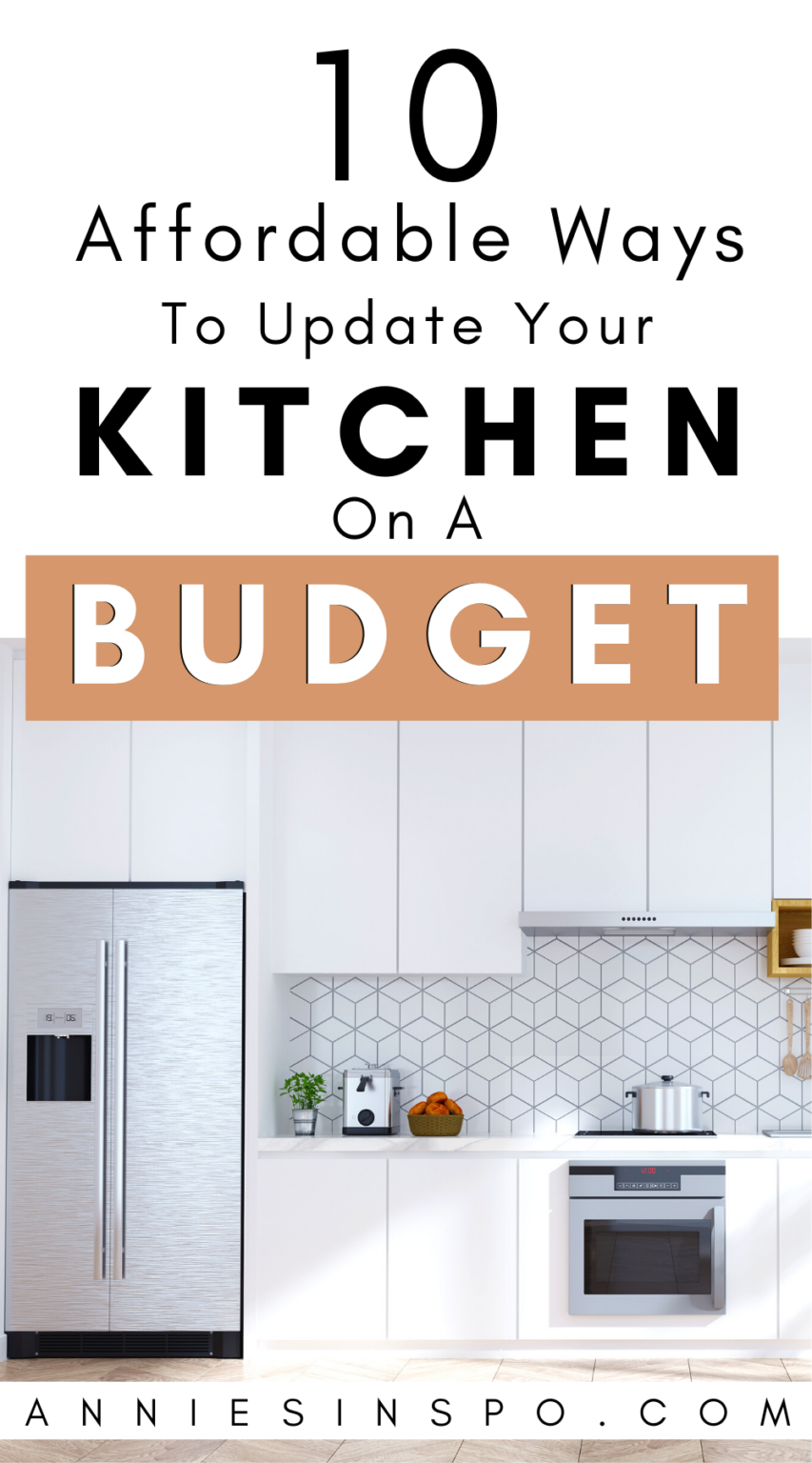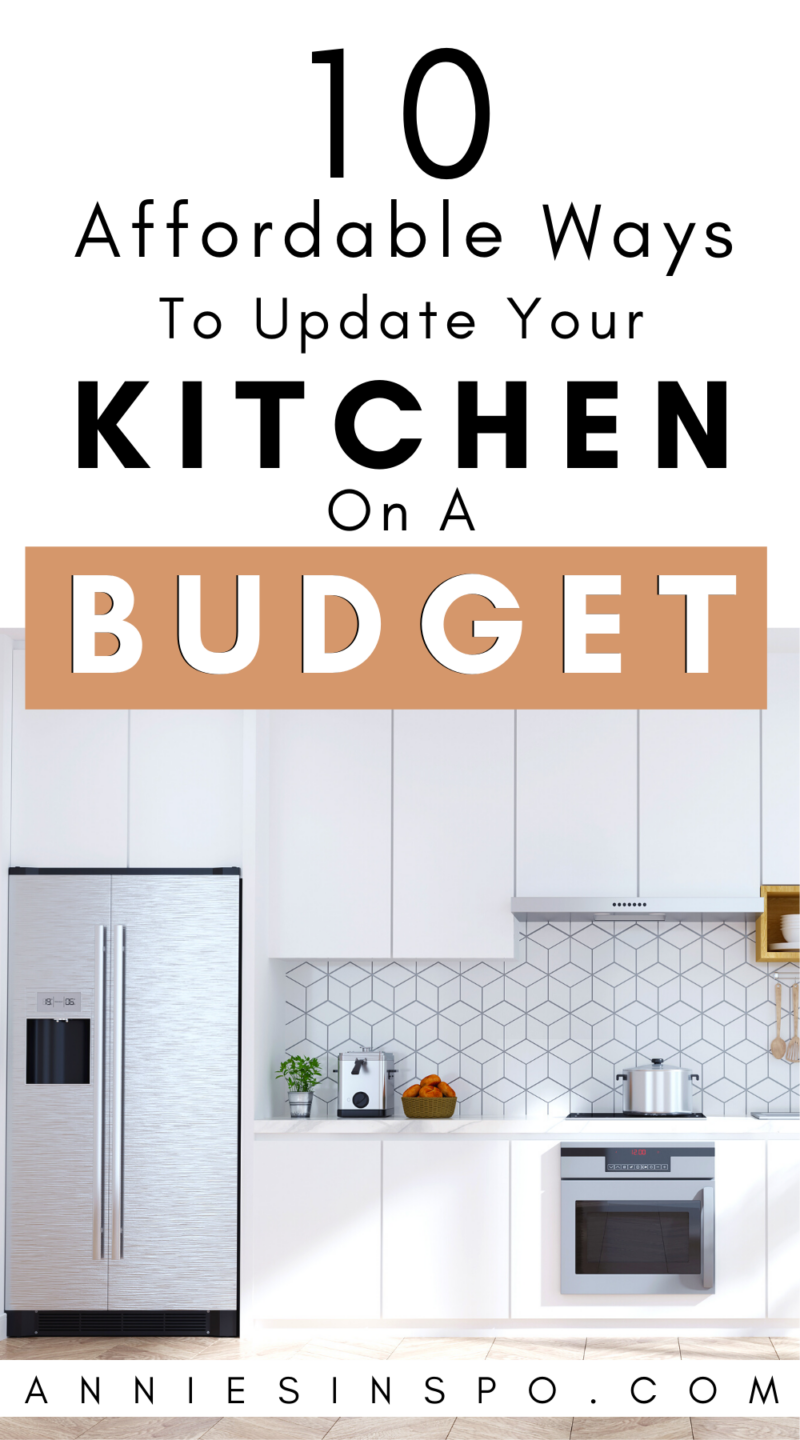 10 Best Ways To Update Your Kitchen On A Budget