13 Best Apps To Sell Clothes Online in 2023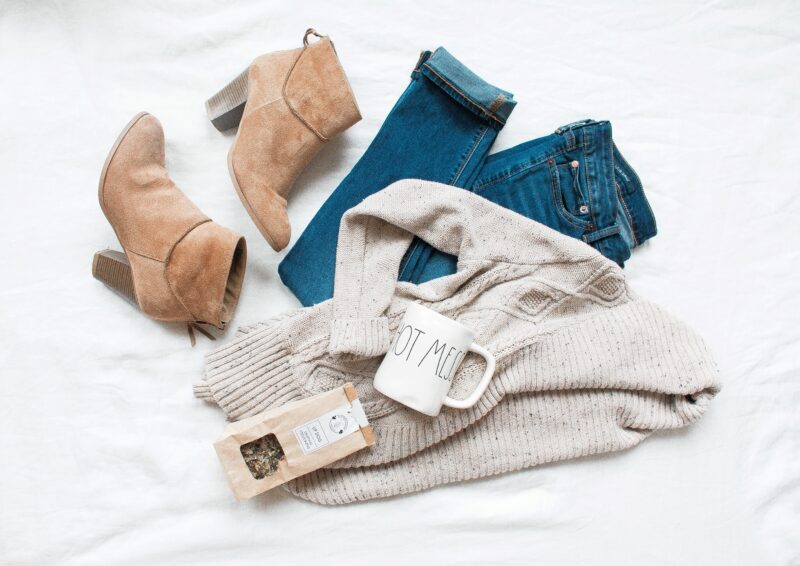 Best App to Sell Clothes Online
Need extra money? There's no better time to earn money selling your own clothes or from second-hand stores than now.
I know, because I do it myself and do very well!
I've used a number of different apps to sell clothes but I thought it would be a good idea to narrow them down with only the best apps to sell clothes online.
Chances are you've got clothes, shoes, and purses in your closet you haven't worn in years, and if they're a popular brand and in good condition, you could be sitting on a pile of money.
And I want to help you collect it. I'll also share some best practices to use when selling. 
This post contains affiliate links, which means I may receive a small commission, at no cost to you, if you make a purchase through a link. 
Here are the Best App To Sell Clothes Online
1. Mercari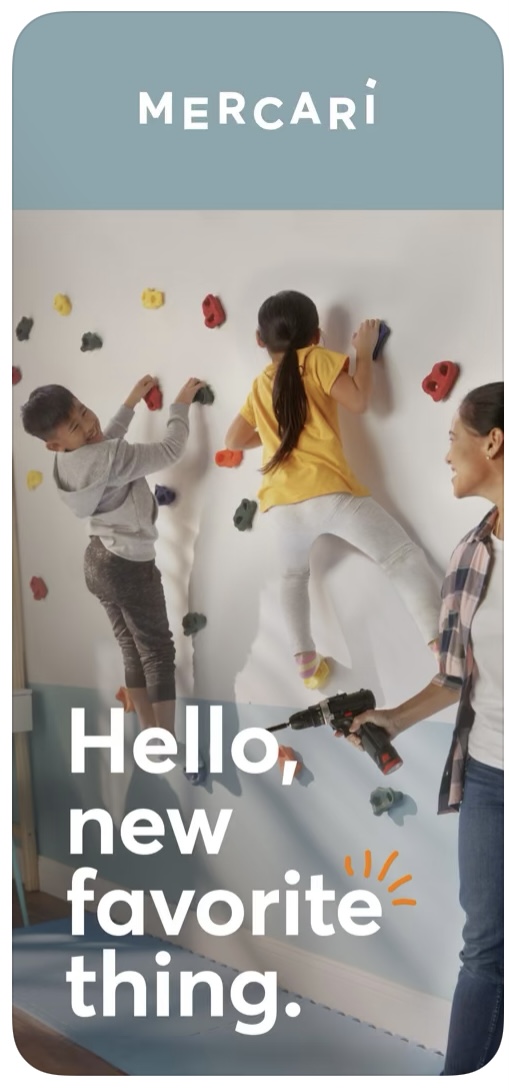 Mercari is one of the best and easiest apps to use to sell clothes online. One of the main reasons I love selling clothes on Mercari is because each item you list is FREE! 
Some platforms have hidden listing fees that you aren't aware of until after an item is sold, not this one!
One thing that's so important to me is PROFIT.
When you list your items be sure to factor in your shipping costs when determining your listing price.
You don't want to end up paying the customer!
To maximize your earnings do a search for items you're thinking about selling to see how you should price them. Always search for similar items to find out how to price your item. Always check out your competition!
Remember, presentation is everything. I always make sure that my listing and pictures look better than my competitors.
Pro tip: When you get a message or a sale, make sure to respond promptly and ship the item in a timely manner. 
Your Mercari profile will display if you're a fast responder, quick shipper and if you're reliable.
These things matter to buyers!
When your customer receives the item, they'll have up to 5 days to rate you as a seller. After you're rated you'll receive your money! Mercari pays through direct deposit, so you'll usually have your money within a few days.
I love selling on Mercari! This is my favorite and in my opinion the best app to sell clothes online.
You can sign up to Sell on Mercari, and even get $10 off your first purchase.
Click here to get started with Mercari.
2. eBay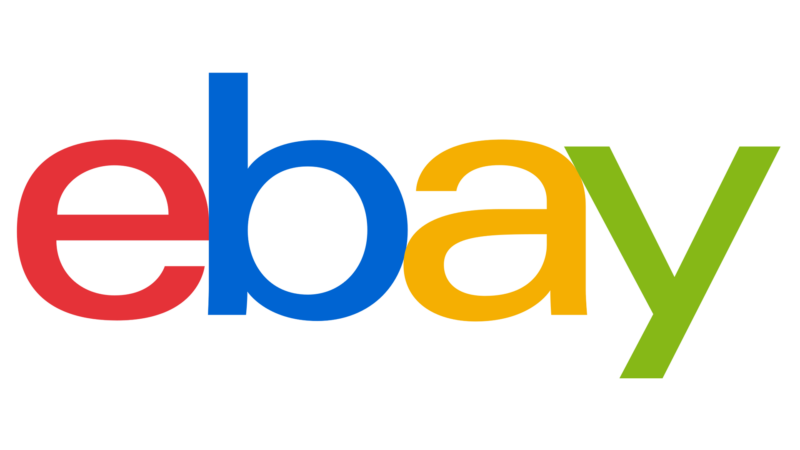 eBay is another great app to sell clothes. I've been selling on eBay for a few years and consistently earn over $2,000 per month in profit barely working part-time hours. 
My husband inspired me to sell clothes on eBay after he made $4,000 in one week from shoes and clothes he's had for years! 
It's amazing what some people are willing to buy on eBay! You can sell anything you already have or flip items online like I do.
My biggest flip to date was a tiny designer handbag. I listed it under 'auction' and 3 days later earned $250 off of one item! After that, I was hooked!
Rob from the Flea Market Flipper is the MASTER flipper and earns over $130,000 flipping items from Flea Markets and thrift stores PART-TIME online.
If you're interested in learning more about how to flip items on eBay, make sure you check out.
Click here to sign up for the free workshop.
3. Poshmark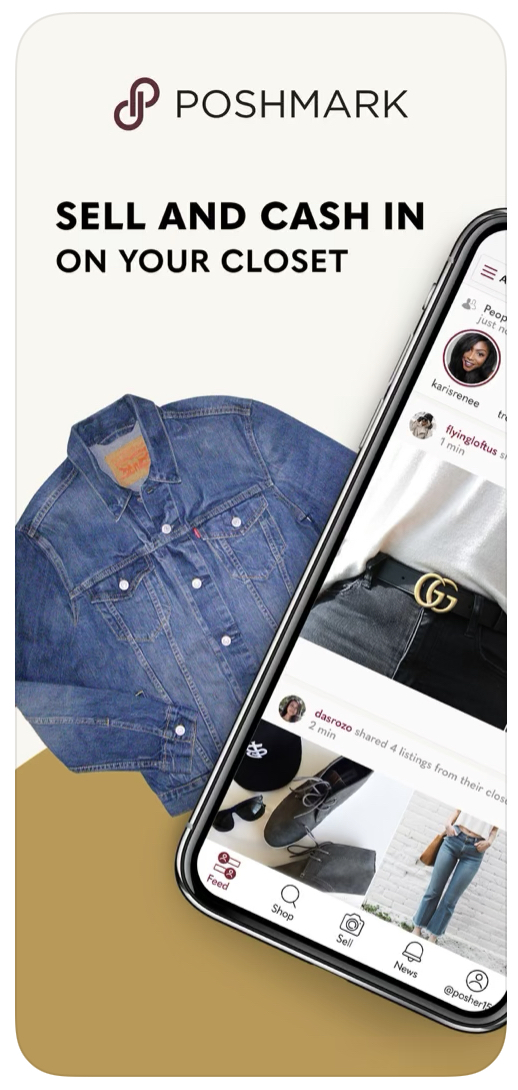 Do you see those Poshmark commercials almost every day? Or is it just me? 
Either way, the commercials aren't like most of those pharmaceutical commercials that list the negative side effects. The positive side effects of using Poshmark is MONEY!
Some people make thousands selling clothes on Poshmark. I know because I follow the Poshmark community on Instagram and it's HUGE! 
You could start making really good money selling clothes on Poshmark. If you love shopping for clothes and can easily identify a designer, name brand, hot items people will buy, and don't mind thrift stores, this app could work great for you to earn money!
Make sure your clothes are in good to great condition and that you provide an accurate description.  Always consider yourself, and ask would I want to buy this?  If you have a high standard be sure to project that same quality to your customers.
If you think Poshmark sounds like a good option to sell clothes online, download the app and try it out. 
4. The RealReal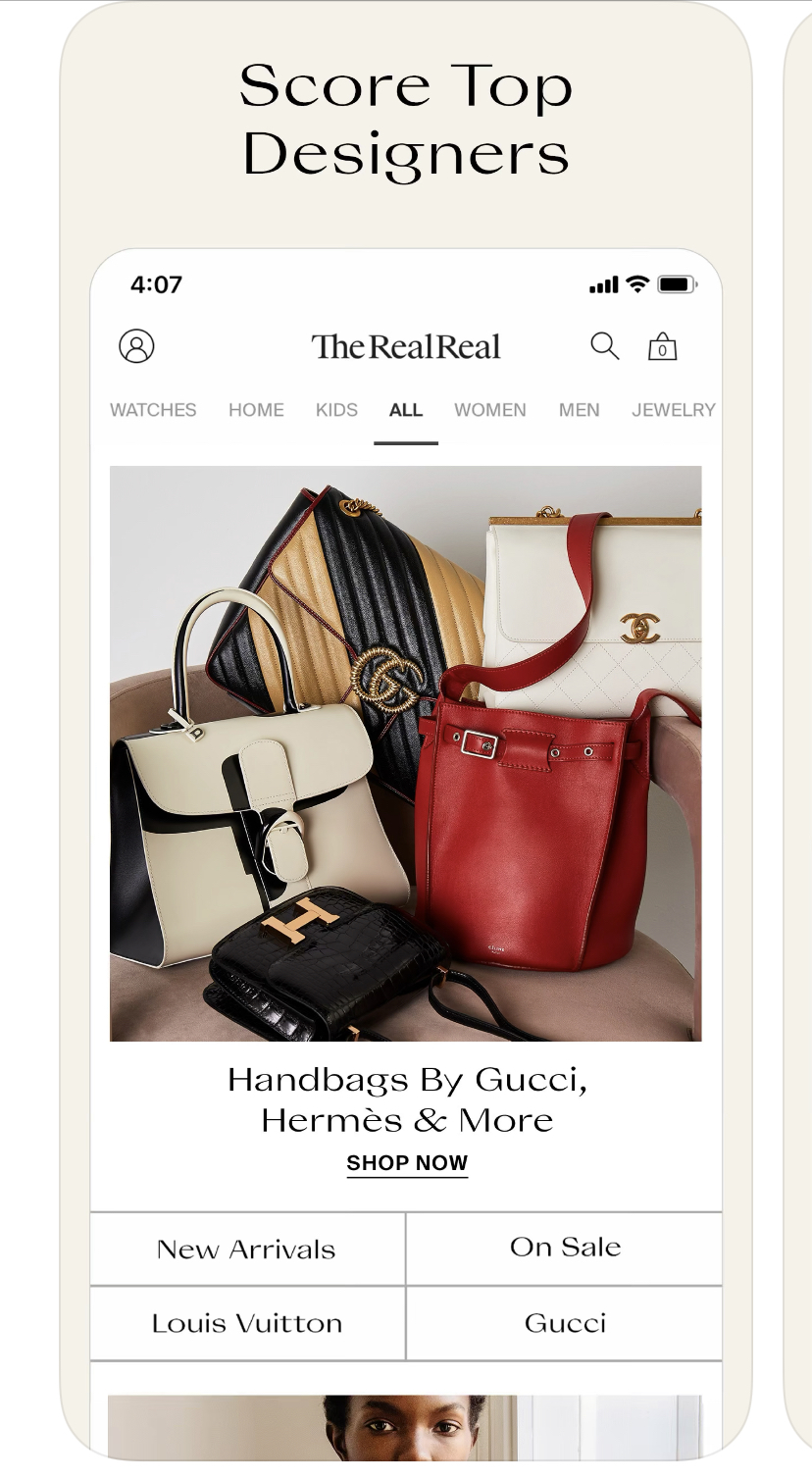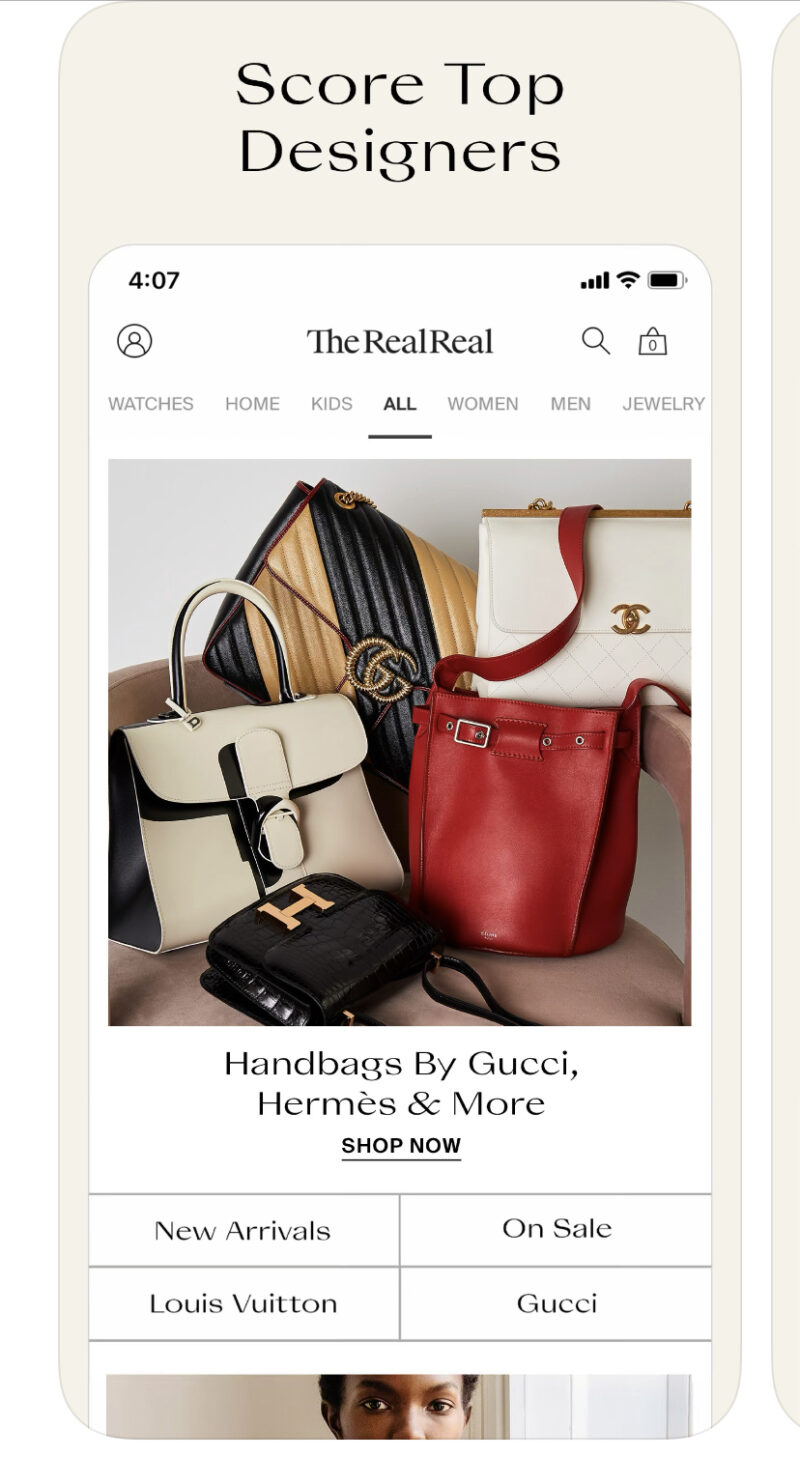 The RealReal is an app and a website where you can sell your luxury items like clothes, shoes, home decor, art, watches, etc.
All you have to do is sign up, schedule a pick-up, drop off the item or ship it to the Real Real. You'll get up to 85% of the sales price. Check out their commission rates. 
The best part about selling on the RealReal is that it's completely passive! You just ship your items to them and their experts will work to sell your items fast! Most of the items sell within the first 30 days.
You get paid via direct deposit, a site credit (to shop later), or a check. 
I mean, who doesn't like passive income?
I love passive income so much that I found out how to earn $20K part-time reselling products on Amazon FBA. 
Related article: How to make money selling on Amazon
5. Etsy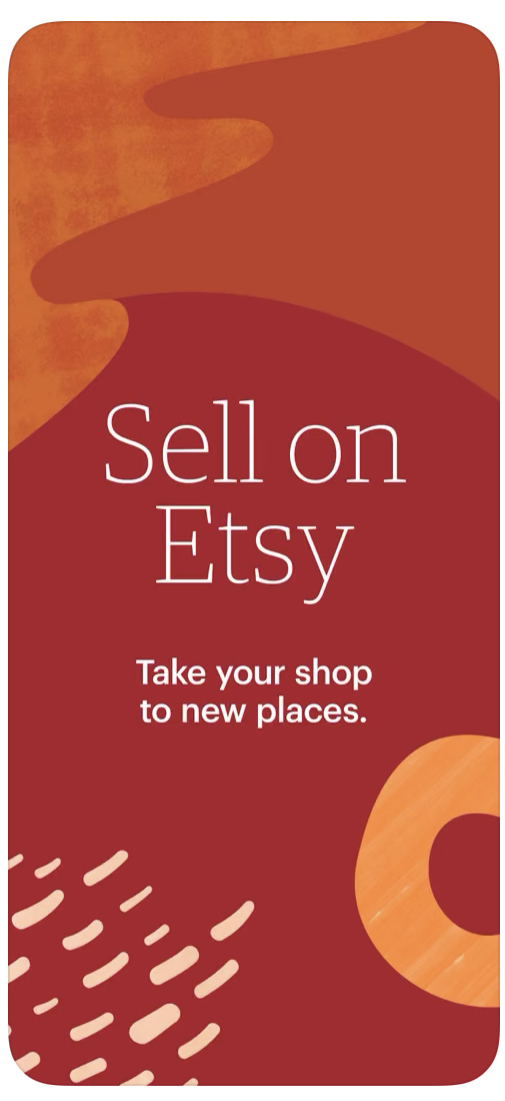 Did you know you could sell pre-owned clothes on Etsy? It's not just handmade items.
Etsy is a common household name now which is great for selling clothes online because most people want to buy from a platform they've heard of before and trust.
Being a part of an established company has its benefits, and because Etsy is well established, hopping on board is easy with the low listing fees.  There's a $.20 fee to list an item.
Pro tip: if you have multiple clothing items that are the same but just in different colors or sizes, you'll want to list the total number of clothing items in that listing to ensure you are charged only the $.20 fee.  
The trick with selling clothes on Etsy is "SEO" (Search Engine Optimization) which is basically understanding what people are searching for on the platform so you can fill that need.
Etsy sales can also be propelled by using other social media platforms to drive traffic to Etsy like Pinterest, Instagram, or Facebook.
I highly recommend checking out Google Trends to stay updated on what's trending. I use a free SEO tool for Etsy called 'eRank' to see where I fall for my listings with SEO.
If you want to start selling on Etsy, sign up and create a store.
Your earning potential with Etsy is endless. But, it will depend on how many items you have and how visible your items are so your products can get found and sold!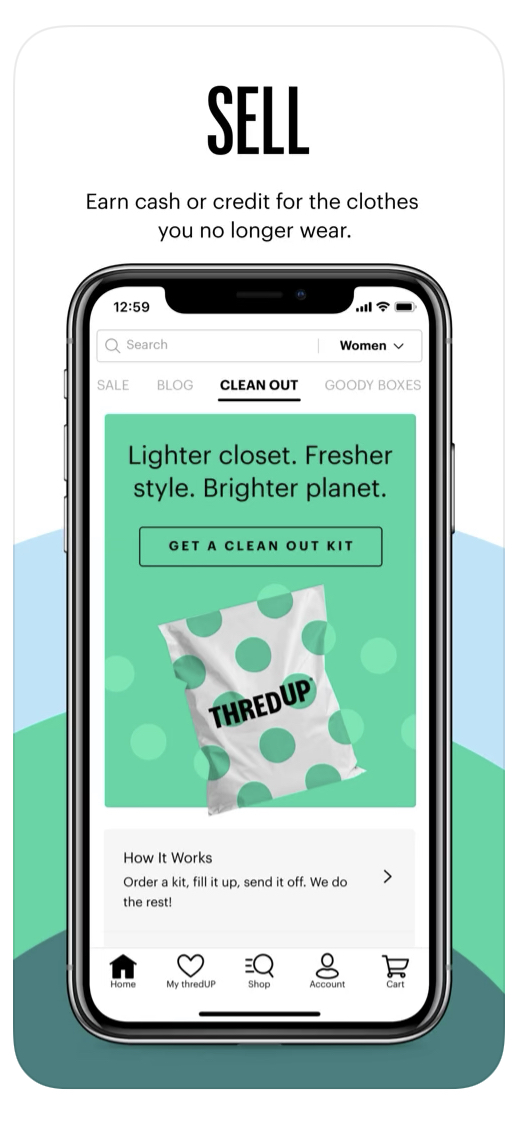 thredUP is an online store where you can free up space in your closet, and make money by filling your kit that they'll mail you, with gently used items you no longer wear, need, or love.
They'll provide the shipping label, all you have to do is drop your kit off with FedEx or USPS and you're good to go. When eligible items sell, you can cash out or get shopping credit.
If you want to make some extra money, sell on thredUP.
7. Tradesy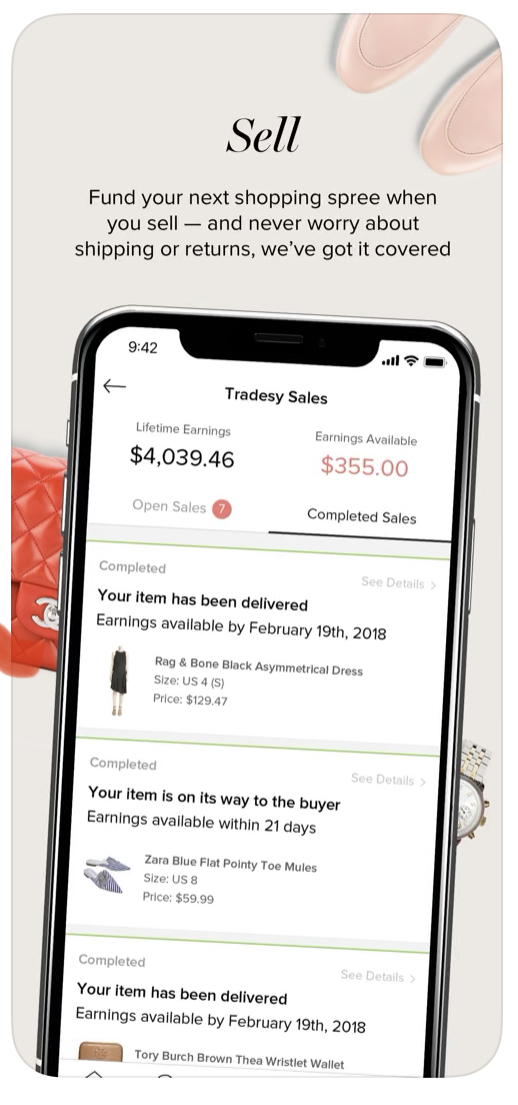 Name brand handbags have proven to do really well on Tradesy.
So, whether you've got a few or a closet full of purses that you're no longer using, Tradesy could be your side hustle.
Tradesy charges a flat commission fee of $7.50 for any item under $50 and 19.8% for anything over $50. You can sell anything on Tradesy from shoes, clothes, wedding dresses, etc.
8. Rebag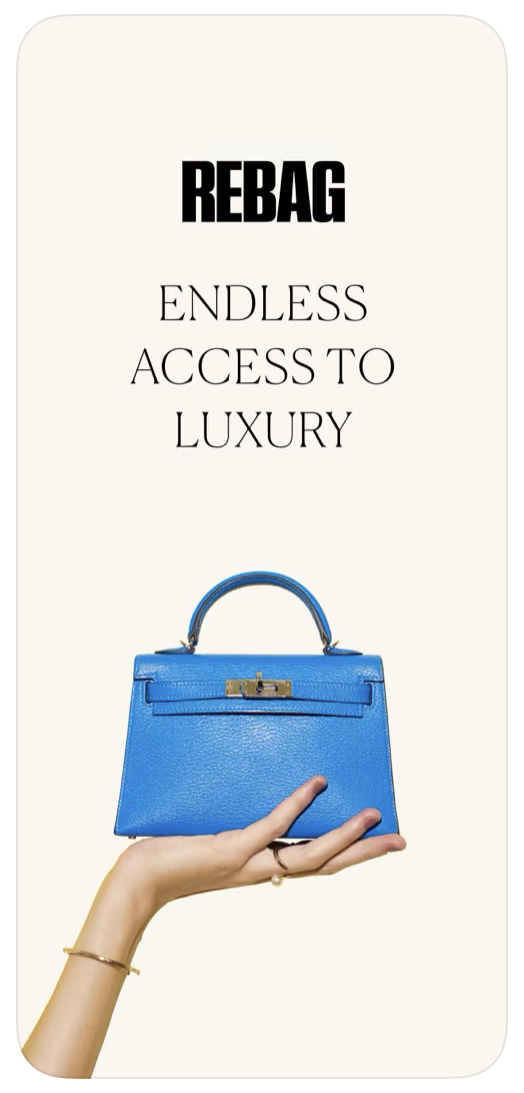 Rebag is an app solely dedicated to selling designer handbags including Balenciaga, Tom Ford, Versace, Givenchy, and so many more. 
They have a team of specialists who inspect every item for quality before the listing goes live on their site. That way customers can trust they'll receive the highest quality luxury goods.
How does it work exactly?
Well, you just send a few pictures of the handbag you want to sell on their site and within 2-business days, they'll send you a quote. If you accept their offer, they'll provide a prepaid shipping label for you.
You'll receive your payment within 3-business days of Rebag receiving your package.
If you live in or near one of the following locations, you can skip using (and paying for) USPS and simply drop off your bag directly.
Miami

New York

Santa Anita
Get started selling on Rebag.
9. Vinted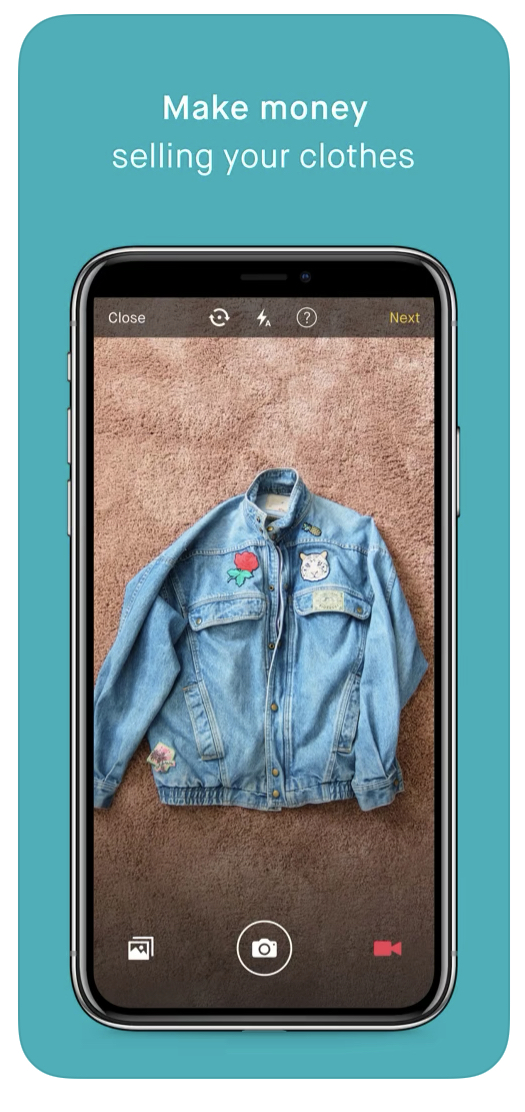 Whenever you're ready to declutter your closet and make some money, download the "Vinted" app.
Vinted will help push your items to sell faster, which means more money in your pocket sooner.
The thing I love about Vinted is that there are no selling fees and you always get to keep 100% of what you make.
If you want to sell on the best app to sell clothes, download Vinted or find out more about how it works.
10. OfferUp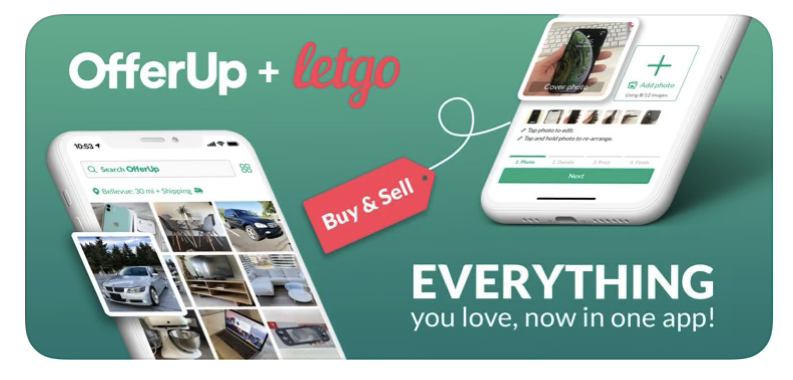 LetGo is now a part of OfferUp.
OfferUp is an app where you can sell to your neighbors and people who live in the area. I'm a little too private to let people know I live in the area. However, if you're more outgoing than me, selling on OfferUp is a great way to sell clothes, furniture, electronics, cars, etc.
It's a popular app to sell so there are lots of potential buyers. 
You just list your item and people who are interested will contact you through the app. Once you get a sale, you'll meet up, and complete the sale.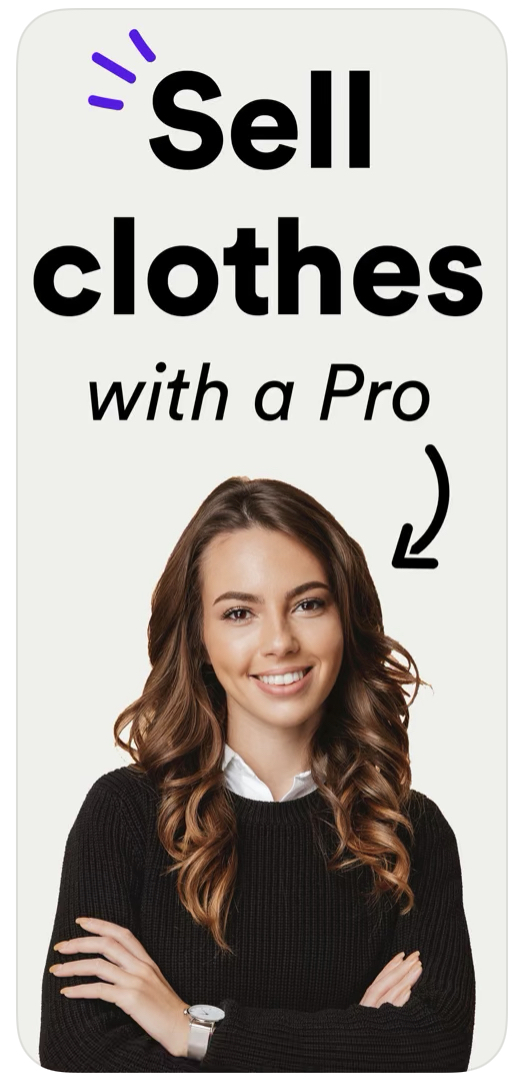 Get started selling clothes on Flyp.
One of the main reasons I like Flyp is because they connect you with a network of independent Pro Sellers who will sell your clothes for you. The pros handle pricing, listing, negotiating with buyers, packing, and shipping each item for you.
Here's how it works:
Take photos of your clothes, shoes, and handbags to create a "Lot"

Get matched with a Pro Seller and review their price estimates and commission.

Partner with your Pro and send them your lot using Flyp's shipping label. You're always covered by the Flyp Protection Policy

Your Pro will receive your items and do all the selling work for you. You will get paid as soon as your Pro receives the funds for each individual sale.
If you have an exclusive item, I'd recommend selling that on one of the other apps mentioned above just to make sure to keep your item protected if it's a high-ticket clothing item.
If some of your items don't sell after 90 days you could either have the items returned to you, or have them donated on your behalf.
Other Platforms To Sell Clothes
12. Instagram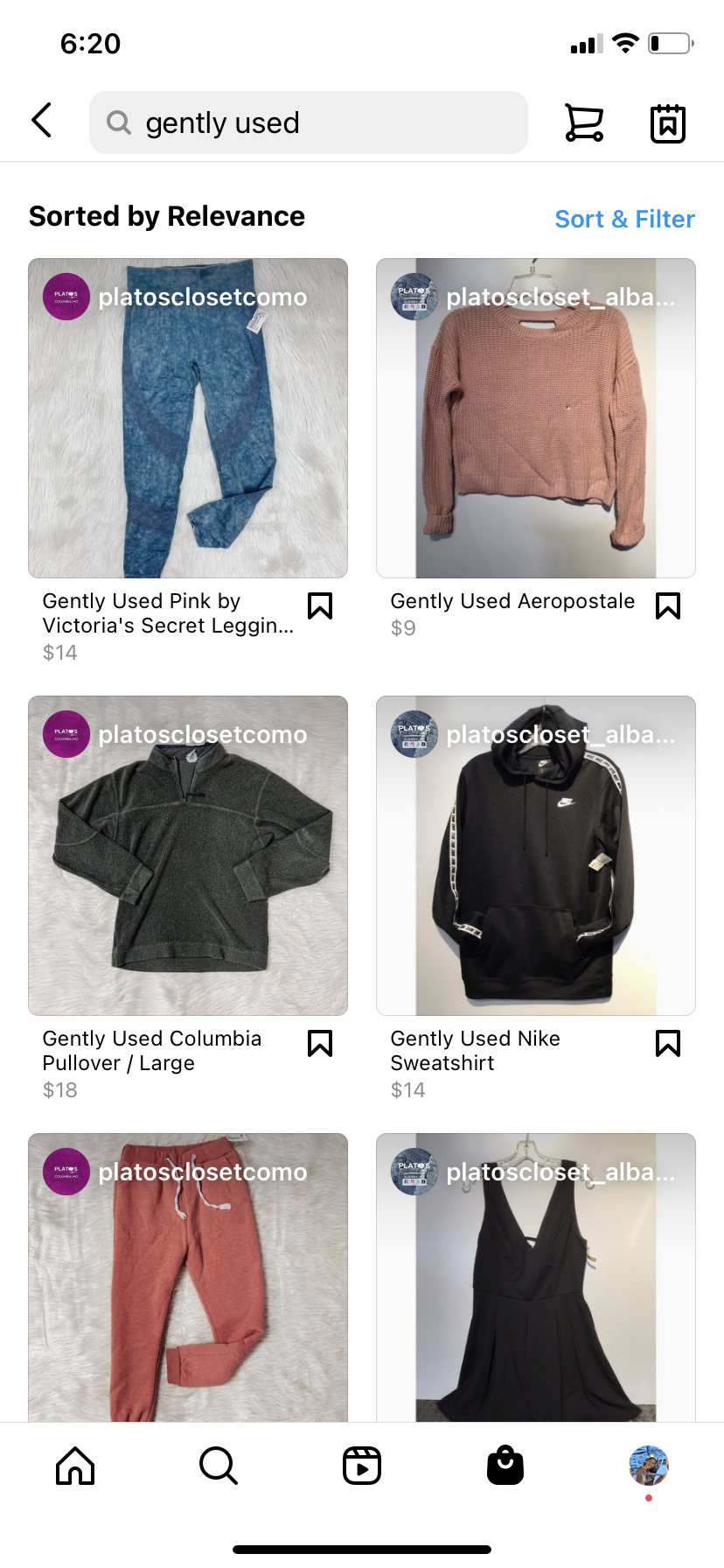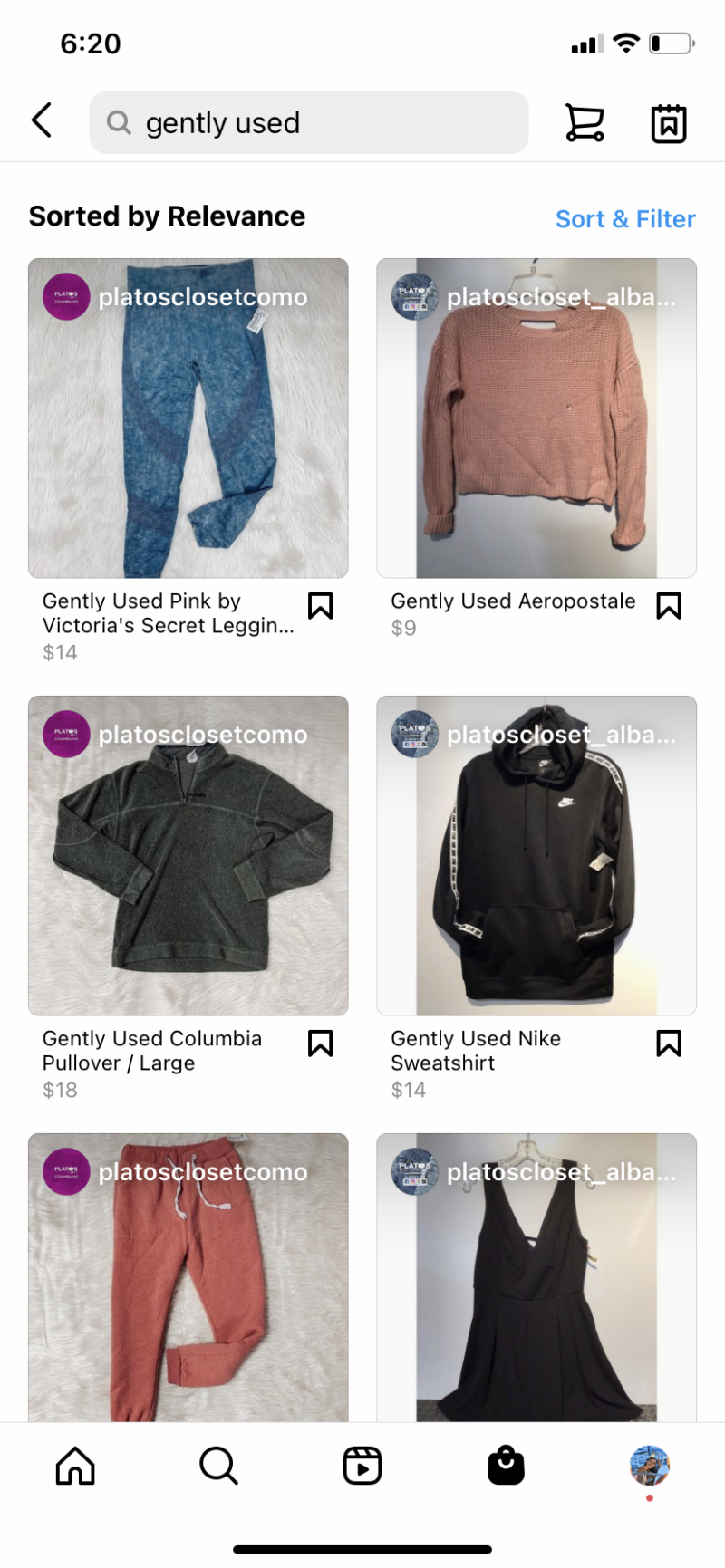 If you're on Instagram, I'm sure you've noticed that 4th icon of the shopping bag.
Well if you didn't know…Yes, you can sell clothes on Instagram! 
If you have a strong following (and really, even if you don't) you can be successful at selling clothes on Instagram. 
Post your items to your personal profile and/or stories that you want to sell and people can easily make a purchase.
Most people like to see how clothes should or could be styled before they are interested in buying, so make them want it!
They don't call it "clickbait" for no reason.
Make sure you use relevant hashtags for the item you're selling. 
13. Facebook Marketplace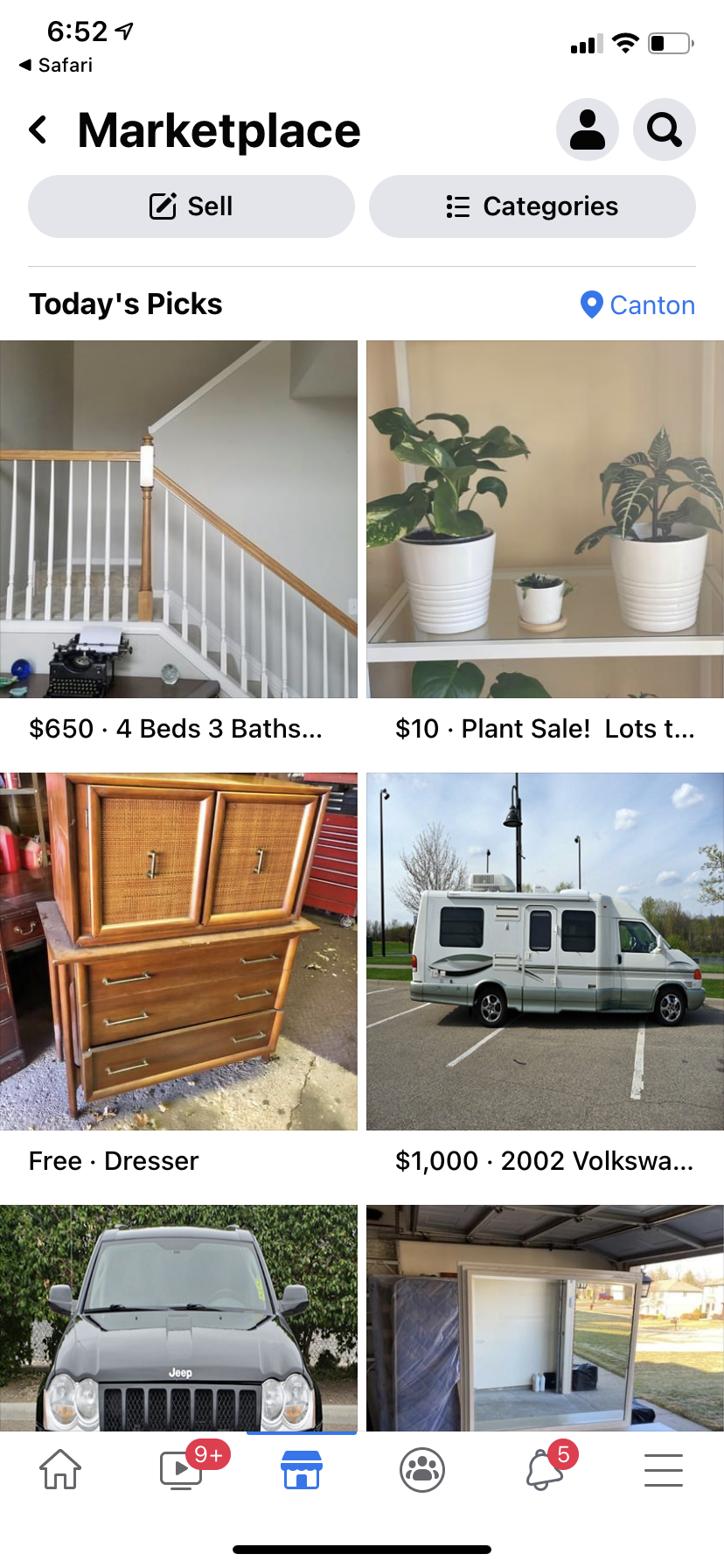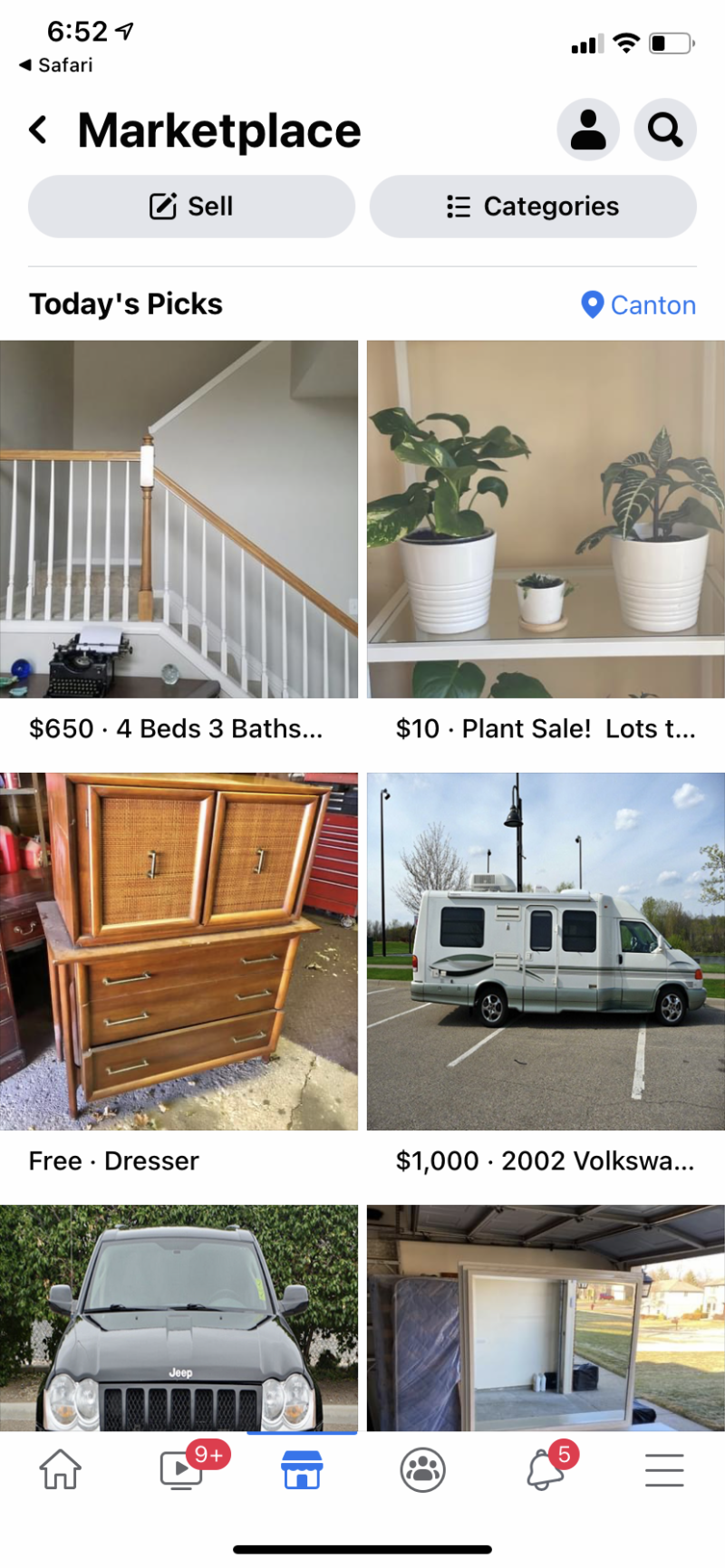 Since you're already on Facebook all the time, consider selling on Facebook Marketplace. 
There are no seller fees or taxes, you simply share your listing(s) to your network. 
Most exchanges of goods will happen in person. If you'd rather sell clothes virtually, this option is one you want to stay away from. Unless your Facebook network is people you personally know. 
There are no listing or transaction fees.
Bonus
Plato's Closet
If you don't want to sell your new or used clothes on an app and would rather try and negotiate sales prices in-person, stop in Plato's Closet.
Check to see if there's a Plato's Closet near you, bring in your clothes, they'll check the clothing items or accessories condition, and they'll pay you in cash right there on the spot!
Now, here are my little-known tips to help you get that sale!
How To Get Noticed On The Best App To Sell Clothes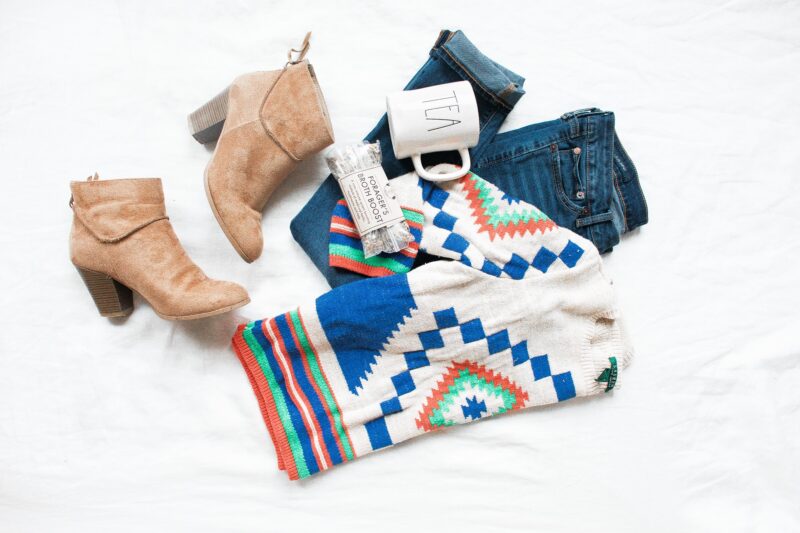 Follow these tips for getting noticed on these apps to sell clothes. 
1. Prep The Stage
Make sure to take good photos. A photo can make or break a potential customer from buying. The more photos you provide, the more comfortable the customer feels buying your item. Make sure to take photos at different angles. 
Take clear and quality photos that make people want to buy ASAP. 
2. Describe Your Listing
Make sure to be very descriptive and realistic about your clothing item's condition. The more descriptive you are the more you can let the customer know what they can expect when they receive your item, i.e., color, brand, sizing, etc. Don't worry about your description being too long (unless there's a character limit). 
Take specific measurements. I usually take a few pictures with my measuring tape near the inseam of a shirt to let the buyer know the exact sizing. 
3. Pricing Your Item
Check out your competition before listing your item to competitively price your items. Look at similar listings and see what they've sold for. If your item is in better condition and if you've got better photos, maybe you could get more than other sellers. 
4. Selecting A Title For Your Listing
It's important to be accurate but descriptive when creating a title for your listing. It's best to just keep it simple: brand + model + product + specifications that help identify the product.
5. Customer Service 
When you start selling clothes online, you have created a company. You are now the CEO, Customer Service, Finance, all of the key parts that keep a successful business running. 
Make sure to prioritize customer service. 
6. Shipping 
Make sure you factor in your shipping costs and fees before you finalize your listing price. You don't want to end up paying the customer to buy your item. 
The price of shipping usually goes up annually, so be cognizant of that. 
7. Free Supplies
Did you know you can order free shipping supplies from USPS and they'll deliver to you for free!
Depending on what types of clothes you're selling will depend on what size box you'll need. You can order free shipping boxes from USPS here.
Are you ready to start selling on the best app to sell clothes? Which app/platform are you going to use? Let me know in the comment section below. 
To learn more about different ways to make money subscribe to my list, or follow me on Instagram.
Love it? Pin it!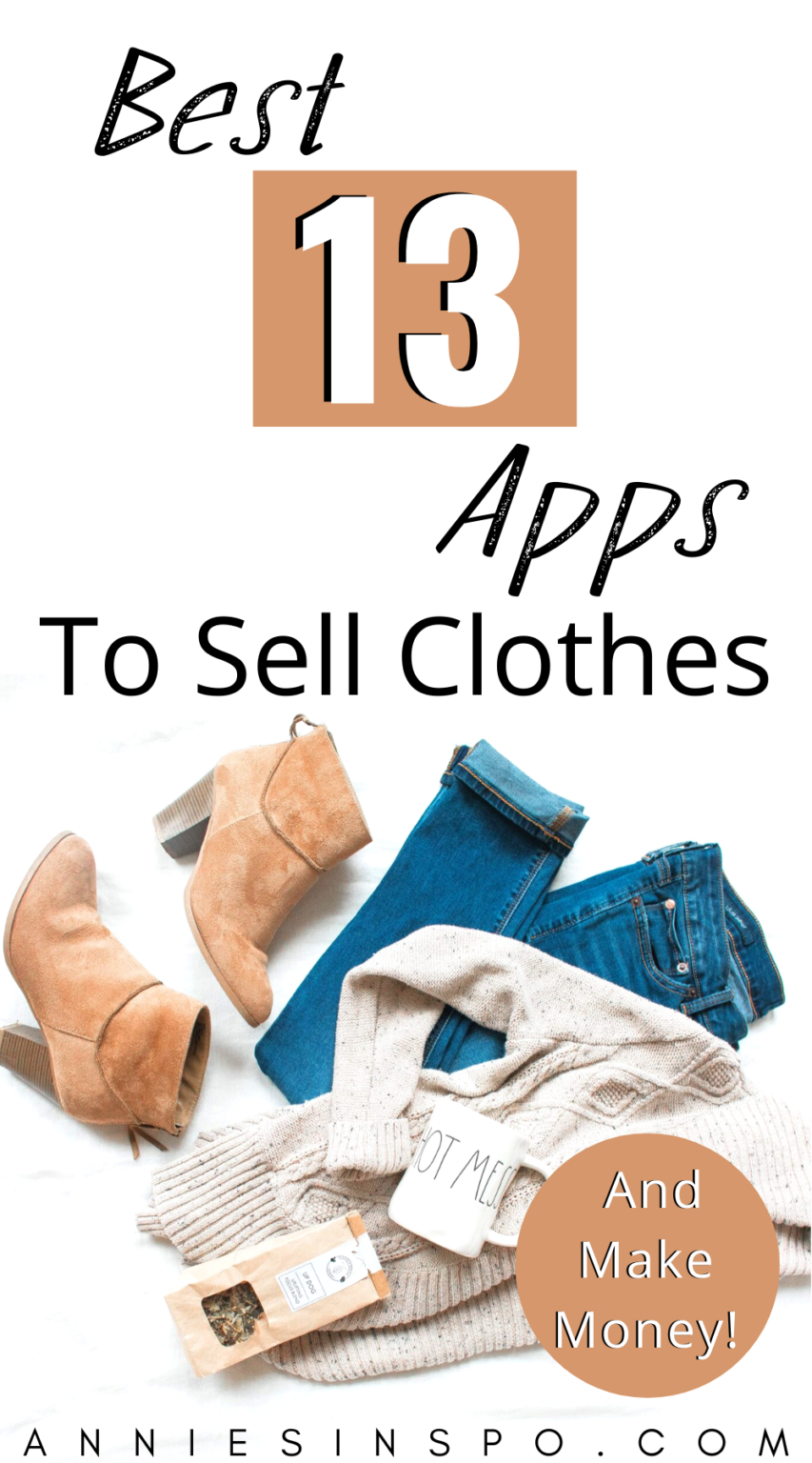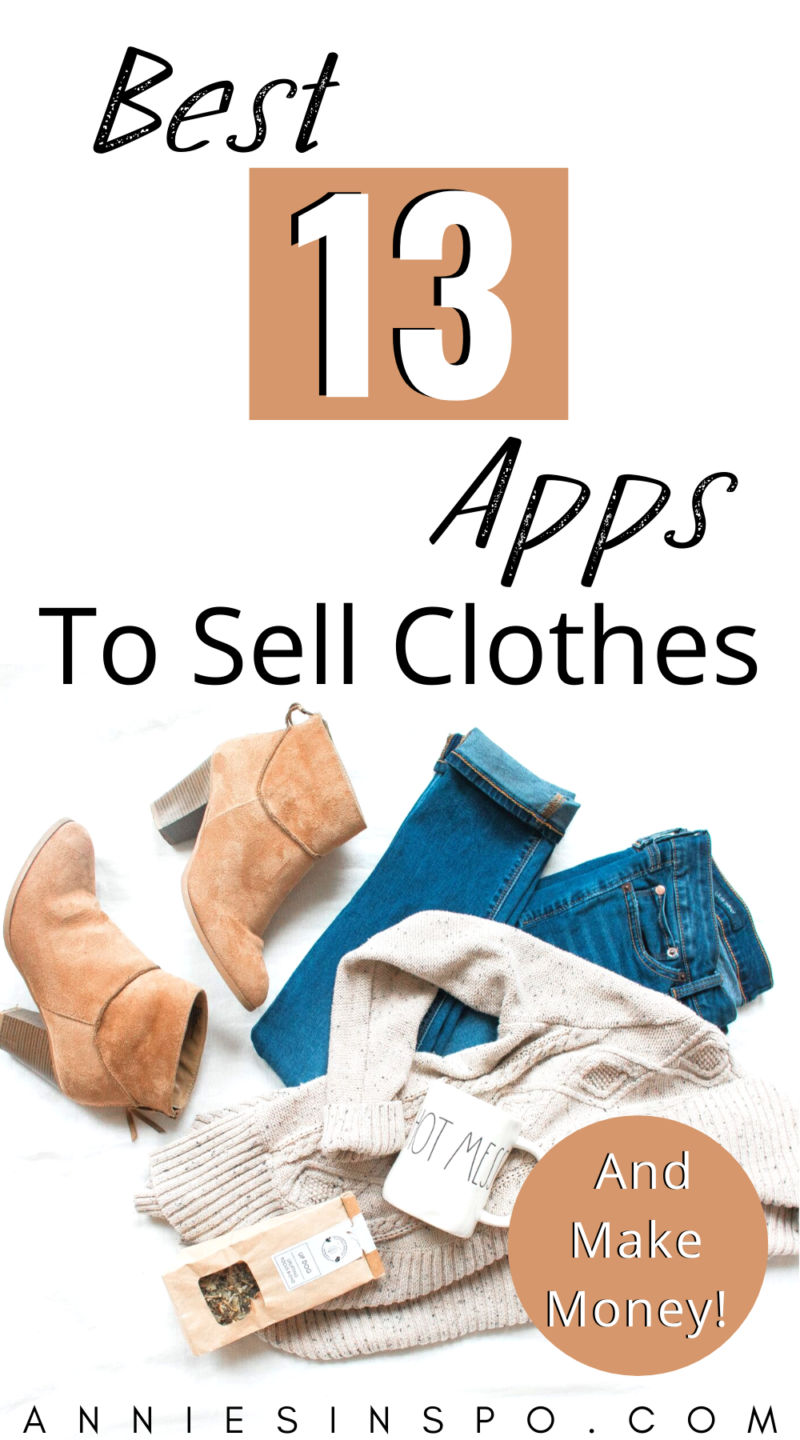 Best App To Sell Clothes