How To Plan Your Dream Wedding Under $5,000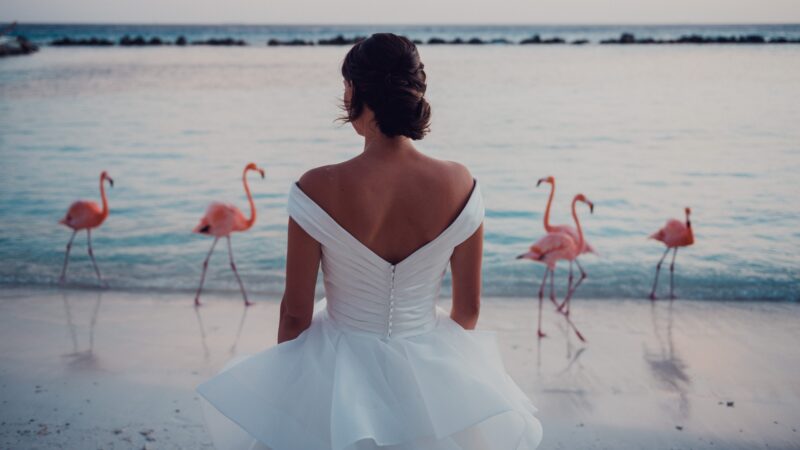 Dream Wedding Under $5,000
Do you think it's possible to have your dream wedding under $5,000?!
Well, I can tell you with certainty, YES! You can!
I know, because I did it!
I didn't start out with much confidence based on feedback from my newlywed friends, who told me to be prepared to spend $10,000 and more!
But I couldn't afford $10,000. I knew what I wanted to do, and it was my goal to at least try and accomplish it.
Very soon after my engagement, the question of when the wedding would be was the topic of discussion. It seemed everyone was asking if we'd set a date yet, and I panicked. No, not because I was nervous about my marriage, but because I was determined to stay within my $5,000 budget.
Sooo…
Who Typically Pays For A Wedding?
It's *tradition* for the bride or the bride's family to pay for wedding expenses, including the wedding gown, bridal accessories, floral arrangements, transportation, photographer/videographer, officiant fees, reception, basically everything.
However, I didn't really think that was fair. I was over 30 when I got married, so I felt like the "Daddy, I need money" phase was over.
If I'm getting married, in-my-opinion, my then-fiance and I should be 100% responsible for the cost.
But, if you have someone willing to pitch in and help pay for your wedding, let them, anything helps! If they do, don't forget to splurge on their "Thank You" gift to validate your appreciation.
Finances and money management are an important part of a marriage. This may be a good time to start financial planning with your spouse and discuss how you'll deal with your finances.
This post contains affiliate links, which means I may receive a small commission at no cost to you if you make a purchase through a link.
What's The Average Cost Of A Wedding?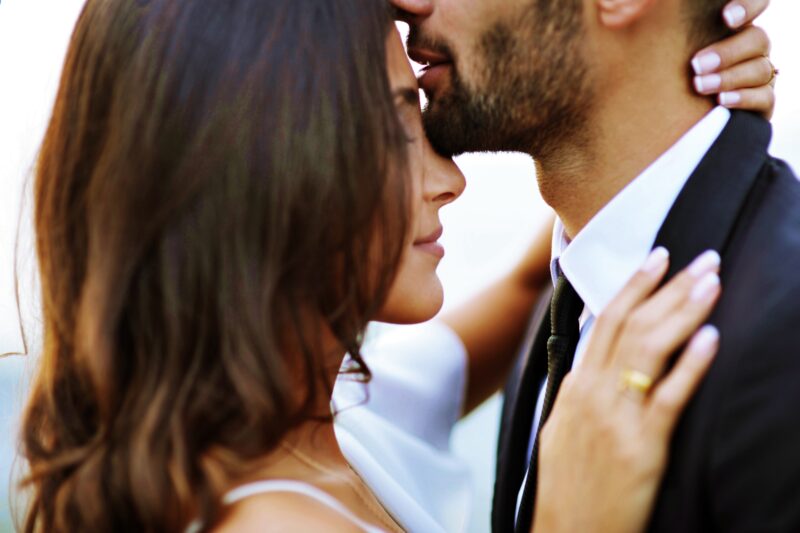 The average cost of a wedding in the states is around $33,000. Which is interesting to me because the median income in the US in 2019 was $31,133, which is just a little less than the cost of an average wedding in the states.
I don't know about you, but I just didn't have that kind of money. In fact, I didn't even have an emergency fund!
Getting engaged was a reality check for me, and *Adulting 101* kicked in.
So these are the 3 key things that I did that helped me pay for my wedding in less than 8 months,
Related: New AI Side Hustles in 2023 ($10,000+ Per Month)
After finalizing my budget for my wedding, I realized I could only afford $5,000.
So let's get started with what you can do to keep your wedding budget under $5000.
How To Plan A Wedding Under $5,000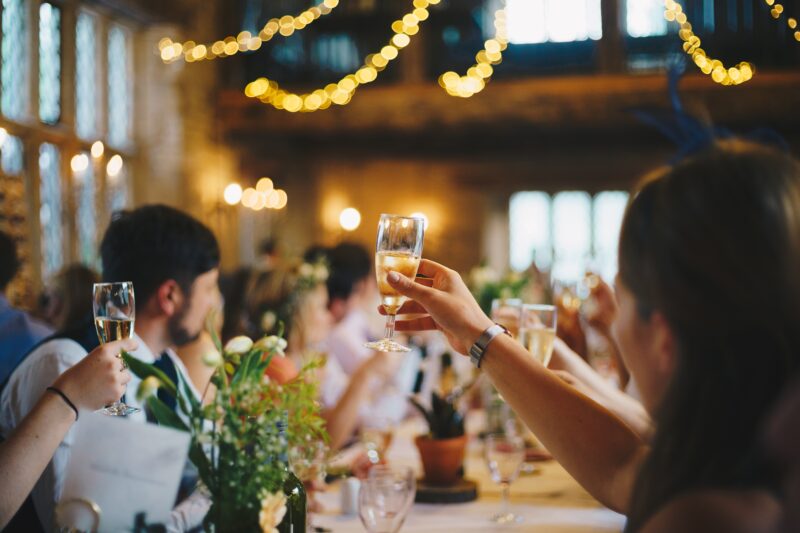 1. Get Organized
As the #1 fan of FREE tools, I highly recommend signing up with The Knot.
You'll be able to organize every aspect of your wedding down to the smallest detail using The Knot's Wedding Checklist, keep tabs on your budget, manage your guest lists, accommodations, registry, etc.
My other favorite free tool to use while planning a wedding is Google Docs. There were times I had wedding thoughts and ideas while I was on the go, and using Google Docs helped me jot down ideas with the ability to open later on another device and share with others.
The first thing you'll need to do to plan your wedding is determining your budget.
The tips you'll find here will not go over $5,000 for your wedding.
2. Limit Your Guest List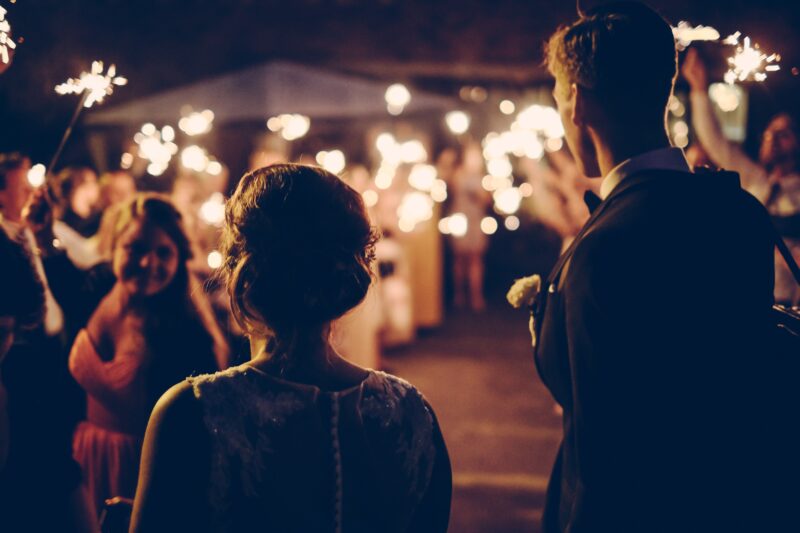 The biggest key to keeping costs down is by limiting your guest list. We kept our guest count down by asking these 3 questions:
Do we know their last name?

When was the last time we spoke with them? If it's been over 6 months…

If we don't invite them, will we regret it?
Don't shy away from the idea of an intimate wedding. If you invite the people who really matter to you and your fiance, it will mean a lot more than just having a ton of people come that you don't know very well.
Try to limit the number of guests to under 200 to keep costs low, even if you have a big family.
I know, I know, you'll have to prepare a blanket statement apology for a while.
Just look at it like this – you're charged for every person who attends your wedding.
This simple wedding tip could save you thousands.
3. Save On Wedding Invitations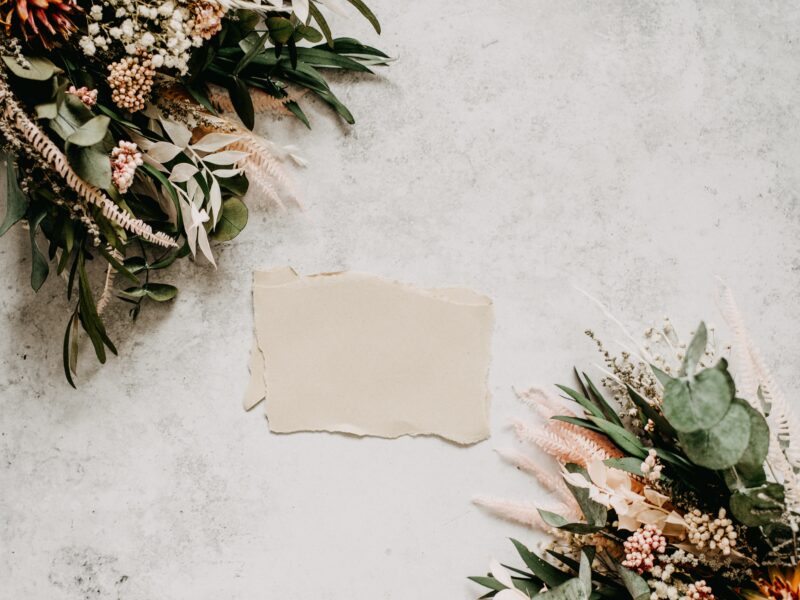 Invitations are one of the biggest statement pieces of a wedding.
You could save money (probably a few hundred dollars) by creating and printing your own wedding invitations or sending your guest evites.
Paperless Post has online invitations that are sleek, creative, simple, and memorable that are more affordable than a physical invitation that includes a print/ink price, envelope, and a stamp.
This shouldn't cost you more than $300.
If you care about the environment (like we do), send physical invitations by giving back to the Earth in some way, shape, or form; do what we did and get a few plantable wedding invitations.
It's eco-friendly, memorable, and made a statement of who my husband and I are.
Limiting your guest list helps to keep costs low because you're sending fewer invitations which inadvertently saves you money on your wedding.
4. Select & Save On Your Wedding Dress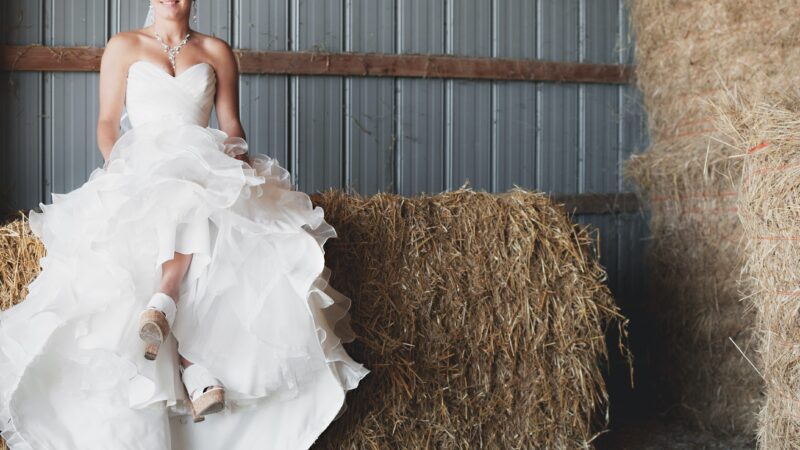 The average cost of a wedding dress is $1,631 (including alterations).
There are 3 ways to save money on your wedding dress:
Re-purpose a family member or friend's wedding dress. Don't worry, you will still look beautiful!

Buy a pre-owned wedding dress from

Pre-Owned Wedding Dresses

,

Still White,

or another place like it.

Buy a new affordable dress from one of these affordable stores:

BHLDN

– Starting from $149

David's Bridal

– Starting from $57

LuLu's

– Staring from $56
I wore my sister's wedding dress, and my mother (a seamstress) made some alterations so I could make it my own.
Wearing a pre-owned wedding dress saved me over $2,500! How much could you save on your wedding dress?
If you need a veil, I'd check out Amazon. That's where I got mine, and it was affordable, beautiful, and looked like I'd paid over $500 for it.
5. Use One Venue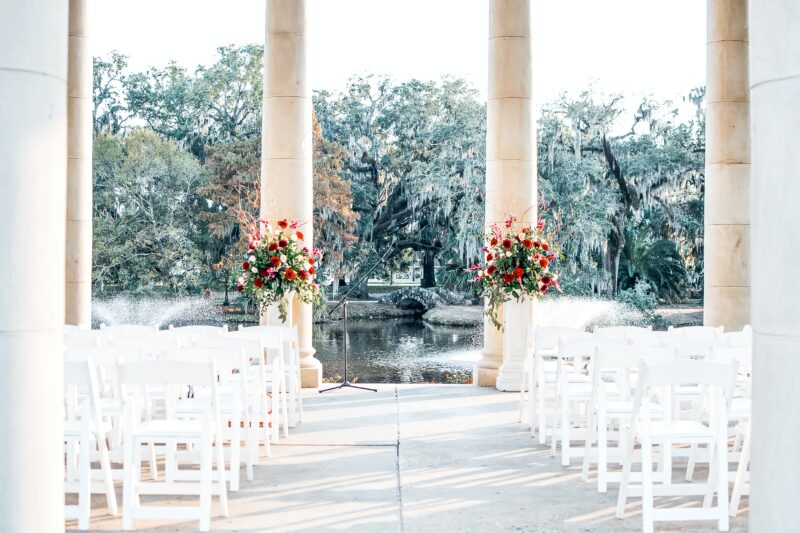 It tends to get really pricey for the reception portion of the wedding. Most people don't realize, the easiest and best way to have a wedding under $5,000 is to host your ceremony and reception at the same location.
If you stick to one venue, you'll pay one bill versus a ceremony at one place and the reception at another with two separate invoices. It also makes it much more convenient for your guests.
It's also wise to avoid prime wedding times like Saturday evenings to reduce costs.
Vendors know these are the dates and times in high demand, so they can charge top dollar, and some couples will pay top dollar.
According to the Knot's Real Weddings Study, 73% of all weddings take place between May to October. Specifically, the most popular wedding months are September, June, and October.
An even better alternative is considering a destination wedding.
The average cost of a destination wedding is around $20,000. I know this sounds like a lot, but remember, the average cost of a wedding is $33,000. A destination wedding can easily be held to under $5,000.
You don't need to have all the bells and whistles.
We got married in the courtyard at the University of Michigan's 'Courtyard Garden' and held a strolling reception in a ballroom upstairs. We had several waiters that were wearing suits or dresses serving beverages and appetizers on trays.
It was exactly as we envisioned, if not even more, and reminded me of one of the more extravagant scenes on Gossip Girl.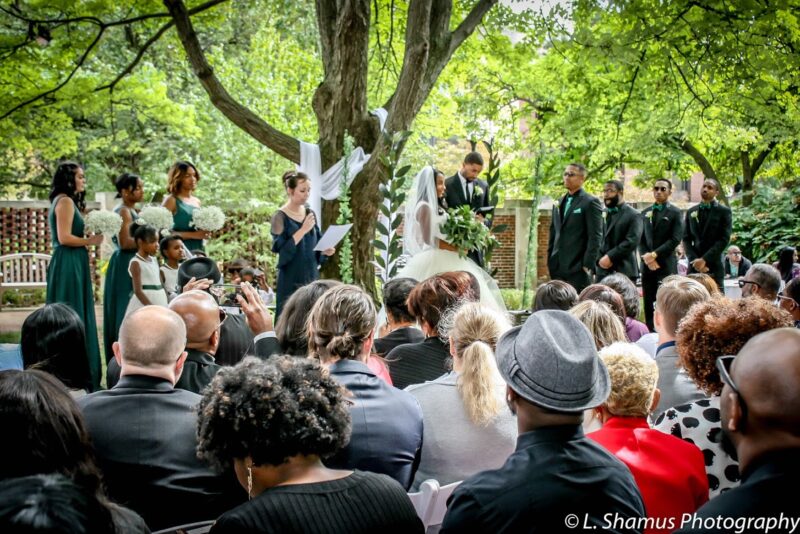 6. Save On Catering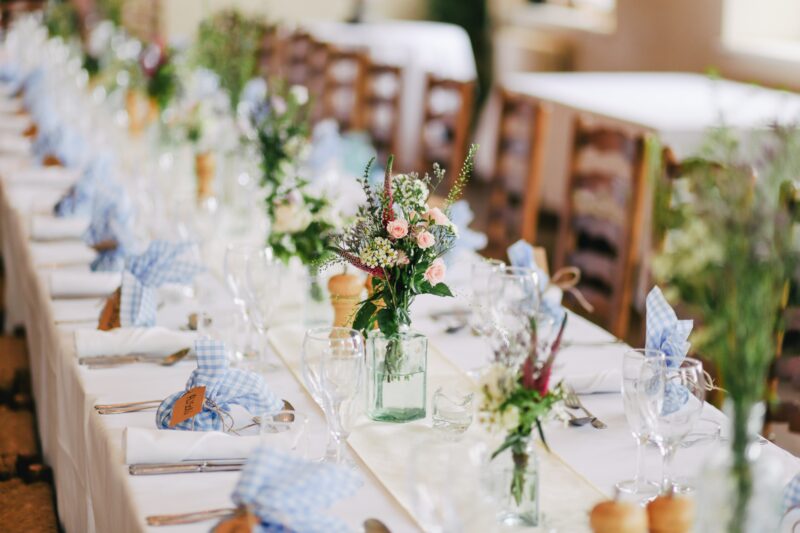 Paying for the food served at your wedding is one of those things that can really jack up the price. If you've already done these first 4 steps: 1) Get organized, 2) Limit your headcount, 3) Save on wedding invites, and 4) Save on your dress, you should be in a good financial position for the food at your wedding.
Here are a few ways to keep your wedding under $5,000.
How To Save Money On Food For A Wedding
Consider hosting from a venue that requires in-house Catering
Research Ingredient Costs Ahead of Time
Order Appetizers, and keep them coming
Go completely Vegetarian
Consider a "Build Your Own" Bar
Meat. Consider offering a less expensive meat, i.e.,

Taco Bar

Sandwich Bar

Burger Bar

Salad Bar

Do a basic buffet that includes filling options like:

potato salad

mashed potatoes

steamed vegetables

casseroles

Limit the protein choices to more reasonably priced meat and vegetable protein options, like:

grilled tofu

grilled eggplant

chicken breast

pulled pork

Serve meals family-style
Stick to only 2 entree options:
Order take out
How I Saved Money On Food For Our Wedding
With our guest list of 200 people, we managed to keep our food and beverage cost extremely reasonable, totaling $2,565.08!
We offered hor d'oeuvres with meat and vegetarian options instead of the plated dinners and offered sparkling cider, coffee, and tea, instead of alcohol. This saved us thousands and could save you, too, depending on your guest list.
7. Photography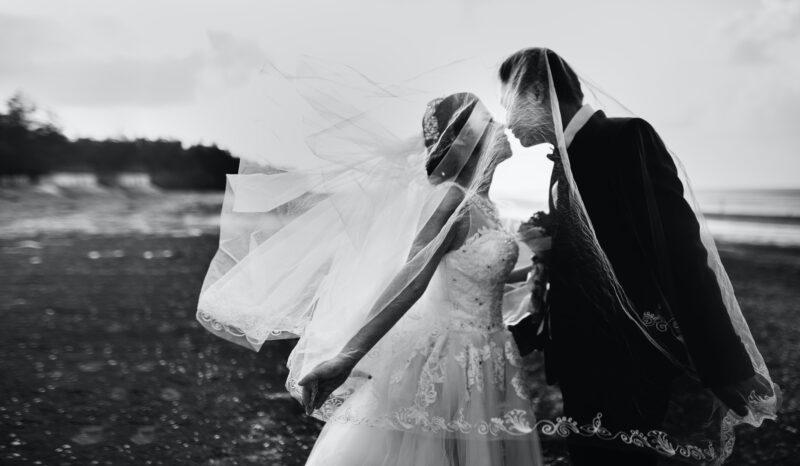 Photography is one of those things that can add up pretty quickly. As a person who loves photography and enjoys the thought of capturing the people you care about most on your wedding day is huge, so I understand if you want to splurge on photography for your wedding.
This is only happening once.
However, I don't believe in the amount most photographers charge… Well, at least my bank account doesn't.
How To Save Money On Photography For A Wedding
Create a lookbook of the types of wedding shots you want to be captured. This will be for your photographer/s, i.e., getting ready, the wedding, and the reception. Here's a list of more

Great Wedding Photo Suggestions

.

Use your wedding guests to take photos for you with

*

The Guest

*.

Your wedding guests take photos and videos that are automatically uploaded to your photo album. Most phones take really good shots nowadays.

Have the photographers only shoot the ceremony and the first half of the reception.
I was a part of a photography team at my job and asked if they'd be interested in taking photos for our wedding and mentioned they could use it for their portfolios.
We had 5 photographers to work our wedding, and they all took great shots. Collectively, they took over 1,000 photos, and the best part is they didn't charge us!
We gave each of them a gift afterward, but it was very helpful at the time to have five really good (but amateur) photographers at our wedding and reception.
8. Music | Rent A Speaker / Hire Local Students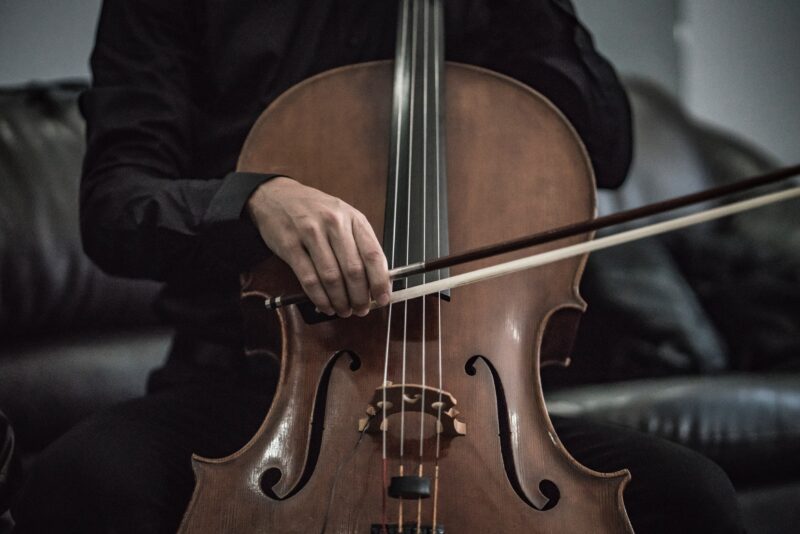 You already know what music you like, so create a wedding playlist and leave it to the speaker. We rented a speaker from our local Guitar Center for only $50.00.
Hire music students to play the ceremony. I reached out to music professors at a local university, and they provided a list of students they recommended to play at our wedding.
We ended up paying $200.00 for the two students who played a cello and violin during our wedding ceremony. They came early to rehearse with us, dressed very well and were very professional.
We also had a family friend to sing the Lord's Prayer for the ceremony. Asking someone you know to sing at your wedding can also help save on costs.
This is one of the most affordable ways to have live music at your wedding.
9. Save Money on Your Cake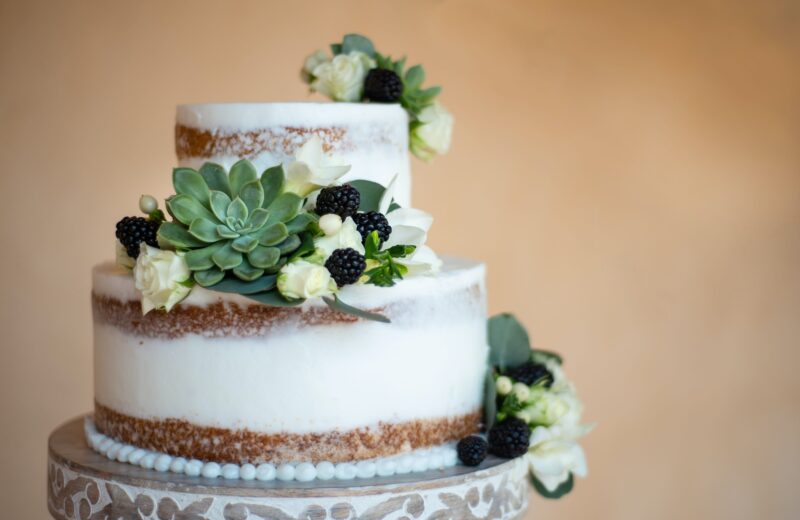 The average cost of a wedding cake is around $350.00.
While I realize the wedding cake is pretty much another must-have if not for the photography, for your guests.
Here are a few easy ways to save money on your wedding cake:
Order a small display (standard) cake

Order a dummy cake just for looks and serve a sheet cake

Keep it simple

Get Buttercream vs. fondant. It's less expensive and tastes

way

better.

Serve smaller slices
10. Decor & Aesthetics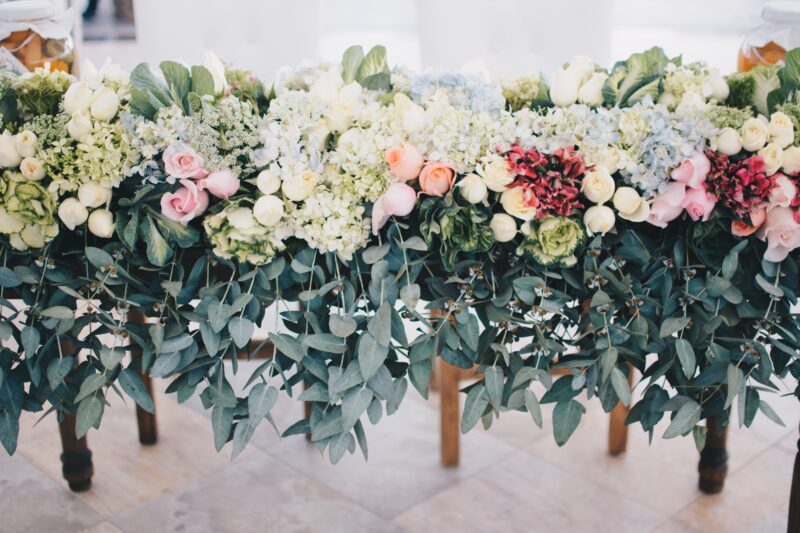 The best way to create a vibe for your wedding is with decor and aesthetics. So create a "Dream-Team" and plan, plan, PLAN!
My "Dream-Team" included my mom, two sisters, and two best friends. We started a group chat, bounced ideas and pictures off of each other to make sure it was everything I envisioned.
I would highly recommend that you do the same when planning your wedding.
What saved us BIG time was ordering our flowers for the centerpieces from Sam's Club. Yes, I said Sam's Club! LOL.
Don't be afraid of buying flowers wholesale. You'll need a lot anyways!
We used Sam's Club to order a few Silver Dollar Eucalyptus and a few Israeli Ruscus for decor around our venue. Check out the Wedding Flower collection at Sam's Club and see which you like best. The prices are much more reasonable than a florist.
You can use them to build centerpieces for the tables at your reception.
The only flowers we paid full price for were my bouquet from a local florist. My sisters and I went to a local flower market and built the bridesmaid's bouquets out of baby's breath and eucalyptus the day before the wedding.
Don't go broke paying for your wedding. You need to be *happy* after the wedding day.
11. Wedding Favors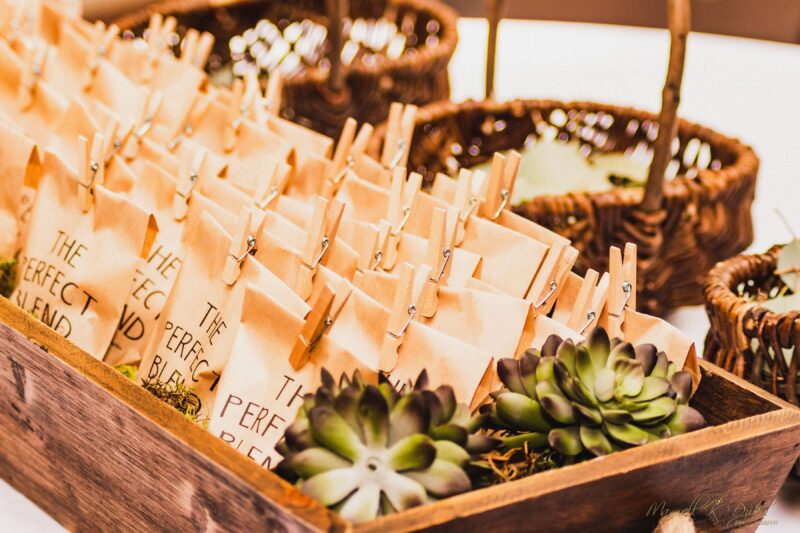 Use your "dream team" again to package and finalize your wedding favors.
Try to make the favor somewhat related to what you and your spouse enjoy. This way, the wedding favor is symbolic and represents both of you.
My husband and I are coffee lovers, so we put coffee beans in a small baggy, and we printed them out ourselves from our HOME printer and titled them "The Perfect Blend." We ended up spending less than $150.00 on the wedding favors!
Teamwork makes the dream work.
So… What Is The Most Expensive Part Of A Wedding?
The three most expensive components of your wedding will likely be:
1) Venue / Food
2) Photography / Videography
3) Florist and Decor
Wedding On A Budget Of $5,000
This is YOUR day. Use your dream team to make your wedding exactly what you want. There are two words you need to live by when planning your wedding, "NO REGRETS"!
Do you think you can have your dream wedding under $5,000? What are some of the other ways you are planning to save money? Let me know in the comment section below.
I hope you learned some new ideas that maybe you had not thought about. It's so exciting to make a plan and see it unfold even better than you imagined.
To learn more about the different ways to make money for your big day, subscribe to my list, or follow me on Instagram.
Love it? Pin it!